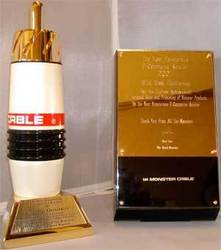 Queen of R&B Soul
Las Vegas, NV (PRWEB) January 15, 2008
On January 8, 2008, Wild West Electronics received The Most Monsterous E-Commerce Retailer of the Year Award from Monster Cable Products, Inc. The award was presented at the 2008 Monster Retailer Awards ceremony during the Consumer Electronics Show in Las Vegas, Nevada, honoring the most monsterous retailers of 2007. The awards ceremony was followed by a world-class concert performed by the multi-Grammy award-winning artist "Queen of R&B Soul" Mary J Blige.
To be considered for The Most Monsterous E-Commerce Retailer of the Year Award, Monster looks at the retailer's representation of truly offering the Most Monsterous Online shopping experience on the Web. In this category, it's all about ease of navigation, strong Monster product presentation, the best Monster product mapping, and the Most Monsterous consumer experience. Other nominees included Amazon, Crutchfield, Huppin's One Call and Your Electronic Warehouse.
About Wild West Electronics
Since 1999, Wild West Electronics has been a premier online source for finer quality specialty consumer electronics. Wild West Electronics (http://www.WildWestElectronics.net) is an Internet authorized dealer of every product they sell, including Monster Cable, Cambridge Audio, Adcom, Mordaunt-Short, Wharfedale and Pinnacle.
About Monster Cable
Monster, under its Monster Cable® brand, is the world's leading manufacturer of connectivity solutions for high performance audio, video, car audio, computer, console and computer gaming, professional audio and sound reinforcement. Monster, under its Monster Power® brand, is also the leading manufacturer of high performance AC power line conditioning and protection products for audio/video systems
Contact: Theresa L. Gillis
Phone: 1-405-340-8951
Fax: 1-866-269-9604
http://www.wildwestelectronics.com
###