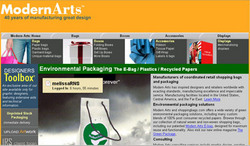 The response from retailers has been overwhelming
Hudson, NY (PRWEB) January 15, 2008
Modern Arts is pitching in and doing their part: saving Mother Earth and helping retailers gain recognition with the eco-smart, environmentally chic E-Bag. The new E-Bag delivers solutions to wasteful packaging problems while providing retailers with custom shopping bags and takeout billboards that environmentally conscious consumers will reuse as their personal shopping tote. The result is a longer life span for both Mother Earth and retailers as well.
Experts agree that it is best to reuse before recycling, and the E-Bag does both. Modern Arts, creators of the E-Bag and a wide variety of packaging, believe that the E-Bag is really the best of both worlds. According to their website, the E-Bag is the neatest, handiest, most functional, and most fashionable of all the wholesale shopping bags in the marketplace. The E-Bag can be folded in a user's pocket and reused for years before it's recycled. It is completely washable and can be hand held, slung over the shoulder, or used as a back pack
When it comes time for recycling, the E-Bag makes it easy. It comes in two forms, one is non-woven to simulate fabric and is made from 100% polypropylene; the other is 100% polyethylene and does not have fabric-like qualities. The plastic used for each is completely recyclable and, unlike paper, does not waste energy or lose strength when the wholesale shopping bags are recycled.
"The response from retailers has been overwhelming," says Alex Lindsay, president of Modern Arts, "Green is where the business is going and with the on-trend response to consumer demands for smart, eco-friendly products, the E-Bag business is booming."
The E-Bag is also useful for increasing retailers' business. The custom shopping bags can be printed in up to four colors and designed to incorporate retailers' logos. Then, when environmentally conscious consumers use the bag to make other purchases, the original retailer's logo is displayed and serves as a takeout billboard, creating impressions as consumers go about their everyday life. The E-Bag not only helps to increase awareness for retailers, but helps create or increase their green image as well.
The E-Bag comes as a part of Modern Arts' commitment to help improve the environment by delivering products that will help in the effort. Modern Arts also has a full line of base papers that are made of 100% recycled paper, and sees the E-bag as an exciting new addition to their family of eco-friendly products.
About Modern Arts:
Modern Arts is America's leading manufacturer of packaging, and has been for over 40 years. Modern Arts offers an extensive collection of retail packaging solutions including paper and plastic retail shopping bags, boxes, and accessories. For more information, visit shoppingbags.com and thegreenpackage.com.
###