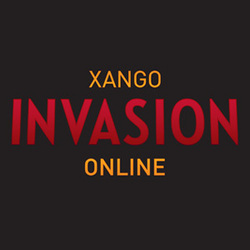 GLIMPSE features an intelligent xanthone formulation that puts the green power of the earth at your service.
Lehi, UT (PRWEB) January 16, 2008
Distributors worldwide and top executives of global nutritional leader XanGo, LLC forged another path in direct sales by hosting the industry's first-ever global online broadcast event. XanGo's "Online INVASION" on XanGo.TV, a 30-minute magazine-style program of major announcements and distributor motivation, attracted viewers from over 20 international markets.
Viewership for the Online INVASION premiere smashed projections, surpassing 100,000 and temporarily overloading the company's servers. Within an hour of the Jan. 14, 7 p.m. U.S. EST kick-off, XanGo expanded its server capacity and met the towering demand for the show.
"Online INVASION on XanGo.TV attracted amazing response from distributors and prospects worldwide. This program is another innovation to build on our tremendous momentum and mobilization worldwide," said XanGo Chief Marketing Officer John Digles. "Combined with our extensive City Meetings and Regional events, initiatives like XanGo.TV and Online INVASION cultivate an elite level of dialogue with our distributors at every level and give prospects unparalleled insight into the XanGo opportunity."
XanGo.TV is the company's brand-centric video sharing site, the first of its kind in the marketplace. Introduced at XanGo's 2007 annual Convention in October, XanGo.TV airs real-life stories, insights and experiences of XanGo distributors from around the world.
"XanGo.TV broadcasts the XanGo lifestyle. Video episodes include business tips, recruitment advice and engaging stories from the field," said Digles.
Since its launch, traffic to XanGo.TV is far surpassing projections with visitors worldwide ranging from the company's distributors to prospects exploring opportunity with XanGo. The company is currently hosting the XanGo.TV Awards competition to recognize the best entries.
During Online INVASION, XanGo executives launched Share It, a global recruitment campaign and introduced the much-anticipated XanGo Single, a 1 oz. sampling version of XanGo® Juice ideal for travel and sales pitches.
As the XanGo Single was announced, an interactive on-screen button, linked viewers to another window where they could place their first order for the product.
XanGo officials outlined an aggressive company strategy for international expansion, current market growth and new sales promotions in 2008. XanGo currently operates in the U.S. and more than 20 international markets, and is quickly approaching 1 million independent distributors.
XanGo Founder and President of Sales and Marketing Gordon Morton updated viewers on distribution of the XanGo Goodness Meal Pack, a product formulation designed to treat the severely malnourished. Launched last October, this program enables XanGo distributors to purchase much-needed nutritional packs that are distributed to impoverished, famined and war-torn countries.
Founder and President Kent Wood unveiled XanGo's upcoming new product line -- GLIMPSE, Intuitive Skin Care - to a cheering ovation from the studio audience. Wood said "GLIMPSE features an intelligent xanthone formulation that puts the green power of the earth at your service." Wood said XanGo would launch GLIMPSE later this year.
XanGo Online INVASION is the first of many planned company events and meetings to be broadcast on XanGo.TV. For more details on upcoming broadcasts, visit XanGo TV.
About XanGo
XanGo, LLC is a recognized category creator as the first company to market a premium mangosteen beverage, XanGo® Juice, to consumers worldwide. XanGo continues to lead the category by driving the research, development and advancement of functional mangosteen products. Based in Utah, XanGo is privately owned and powered by a global network of independent distributors. XanGo's expansive operations include the U.S. and numerous international markets such as Canada, Mexico, Japan, Germany and Malaysia. For more information , visit the official XanGo website.
###