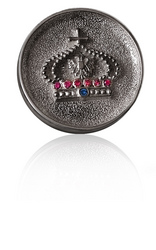 Phoenix, Arizona (PRWEB) January 15, 2008
Designer David Shano's new collection of golf accessories for women are designed to add a touch of feminine individuality to the great game of golf.
The designs are classic and clean using only the finest precious gems and .925 sterling silver. Each marker measures 1" in diameter and 1/10" in depth. the back side of each piece is easily engravable allowing the addition of monogramming for a distinctly personal gift. A portion of the proceeds from the ribbon with pink sapphire will be donated to the Susan G. Komen foundation for breast cancer research.
Designer Collections are currently available at select high-end retail locations. If you are interested in SHANO, or for more information, please contact 1-800-310-7353 or on the web at http://www.shanodesigns.com.
About SHANO Precious Jewelry and Timepieces: SHANO, since 2002 has been designing and hand crafting fine jewelry and timepieces of distinctive style and impeccable quality. Founded by David and Katherine Shano, their philosophy has been to offer true luxury while adhering to a globally responsible set of core values. Luxury to pass on through generations.
Media Contact: Russ Wall
Direct: 480 706 1688
© 2008 Shano Precious Jewelry and Timepieces
###