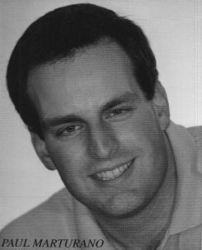 New York, NY (PRWEB) January 16, 2008
Paul Marturano, who appeared on American Idol last night (1-15-08), and caught the nation's attention as Paula Abdul's "Stalker," is not only a off the wall comedian and an accomplished pianist, but is also on the executive board of Loli's Place, Inc. a Non-Profit Animal Rescue.
Marturano, born and raised just outside Philadelphia, PA has been making his living performing all over the country for the past 10 years, moonlighting as a Billy Joel/Elton John Style Piano Man in Atlantic City Casinos, at colleges, Universities and even on luxury cruise liners.
Marturano has released two CDs of original songs which are available on CDbaby.com, Itunes, and at http://paulpiano.net .
Paulpiano.net also features video footage of Paul's band along with a variety of information about Paul Marturano including his ties to Regis Philbin, Jackie Martling, and Les Paul.
Marturano is also partially responsible for The Hairy Aureolas, a foul yet clever politically incorrect musical comedy duo, where Marturano plays the infamous Pauly Nipple. Robbie and Pauly Nipple have appeared on FOX, TLC, and even starred in a VH1 pilot called Just Visiting that never made it to air. The song that he sang to Paula Abdul -Stalker- is available along with two Hairy Aureolas CDs, Rotten Box and 17 Songs that Will Make You Want To Kill Your Retarded Step-Brother on CDbaby, Itunes and http://hairya.net. You must be 18 years of age to enter hairya.net .
For the past five years, Paul and some friends have been saving animals from euthanization in overcrowded animal shelters and founded Loli's Place, Inc. The goal of Loli's Place, Inc. is to build No-Kill Animal Shelters all over the country and to encourage spaying and neutering until the euthanization of animals becomes a thing of the past.
According to Marturano, his dog, Loli, passed on in October of 2005, while he was away performing at a college in WI. Since then, he has vowed to give a piece of everything he does to the animals and has taken the first step as one of the founding board members of Loli's Place, Inc. Marturano plan's to donate a large portion of his CD sales and The Hairy Aureolas CD sales as well as a portion of profits from any performances to Loli's Place, Inc. Loli's Place, the children's book is due out by the end of the year. For more information please visit http://lolisplace.com
For information about Paul's sidekick at the American Idol Auditions, Milo Turk, Please visit Miloturk.com .
Milo Turk a true American Idol with a message for teens
Milo Turk has been described as a cross between William Hung, Weird Al and Super Mario. Milo performs his musical comedy songs with all of his heart and his song No Sex Allowed which he performed on American Idol is the golden ticket.
Turk is a songwriter/singer/performer who specializes in songs with messages done in a lighthearted hilarious fashion. His songs include music about promoting abstinence, communication in relationships, reducing gossip and other forms of promoting positivity to teenagers and people of all ages. He is also known for doing offbeat versions of 80s songs. Milo's CD is available on CDbaby.com, Itunes and at http://miloturk.com . Miloturk.com also features some video footage of Milo's performances.
Turk recently performed his hit song, No Sex Allowed on American Idol for Judges Randy Jackson, Paula Abdul and Simon Cowell. He has performed on Jimmy Kimmel Live, at Trump Marina's Road to the Big Room with Justin Guarini, he is regularly featured on the Kidd Chris Show on 94.1 WYSP-Philadelphia and has stunned an audience of 4000 people at Liberty State Park.
He has been a songwriting master writing potential hit songs since 1990. He studied songwriting and the music business at the University of the Arts in Philadelphia, taught by well known producer Marc Dicciani. He has taken vocal lessons in Pop music by world renowned vocal coach Sal Dupree.
He also has a comprehensive and varied working knowledge of record charts, artists and songs in Billboard Magazine and other catalogs.
For information about Milo's sidekick at the American Idol Auditions, Paul Marturano (Pauly Nipple) , Please visit http://paulpiano.net .
###