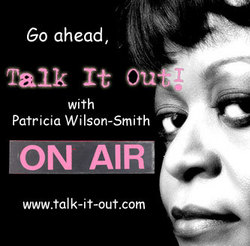 But we plan to launch other special-niche social networking sites like this one in the very near future.
Atlanta, GA (PRWEB) January 16, 2008
(http://www.talk-it-out.com) Urban Media Interactive, in conjunction with The Daily Confection announced today that it has launched a new social networking and viral video website for busy professionals.
The site, Talk-It-Out.com is a MySpace-like online community, with a funkier, fun look and with features, interviews, news, reviews, and hilarious commentary from the author of "Duped By Love", Patricia Wilson-Smith.
"Talk It Out is Patricia's brainchild", says Daily Confection's publisher Veronica Marie. "The idea came to her when she realized that MySpace wasn't meeting her needs as an older professional, and that people needed some place to go to discuss issues, trade information, and make friends. Talk-It-Out.com is that place!"
The website is a companion to Wilson-Smith's "Talk It Out" Internet Radio show, which debuts this Saturday, January 19, 2008 at 9pm on BlogTalkRadio.com. The hour long show combines talk, music and the special brand of comedy that made "Duped By Love" such an acclaimed success. In addition to being heard online live at BlogTalkRadio.com, "Talk It Out" will be made available via a number of podcast networks, including iTunes, and re-broadcast on The Daily Confection's popular online destination for women, SheUnlimited.com.
According to Ms. Marie, Wilson-Smith has been one of She Unlimited's most popular writers and contributors for a number of years. "Patricia anchored She Unlimited's red carpet coverage of the 79th Annual Academy Awards©, and did a phenomenal job. Our partnership with Talk It Out and Urban Media Interactive will make it possible for the millions of visitors to our site we get each month to hear her show on a regular basis. We are extremely excited about this new chapter in our association with Patricia!"
On any given day, visitors to Talk-It-Out.com can expect to get everything from political commentary, to comedy bits, to personal messages from Wilson-Smith. Visitors can upload videos, photos, customize personal pages, and start and moderate their own discussions. They can also listen to the radio show from the site. "This is the first online venture of this kind for Urban Media Interactive", says Steffini Bethea, UMI's Southeast Director of Sales. "But we plan to launch other special-niche social networking sites like this one in the very near future."
She Unlimited/The Daily Confection: SheUnlimited.com is a network and online magazine with cutting-edge articles, interactive media and product reviews. Learn more at http://www.sheunlimited.com.
About Urban Media Interactive: Urban Media Interactive is a new online media company that leverages Web 2.0 technologies to develop custom viral marketing and promotional Internet strategies for businesses. Learn more about us at http://www.urbanmediainteractive.com.
###