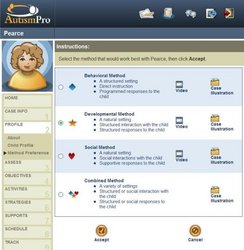 The rich content represents evidence-based best practices for children within the autism spectrum of disorders as defined by the US National Research Council in 2001
Fredericton, NB (PRWEB) January 16, 2008
Virtual Expert Clinics (VEC), creators of AutismPro® -- an innovative software program for delivering autism services over the Internet -- and MAXIMUS, a nationally recognized leader in special education, instructional management and response to intervention (RtI) solutions, today announced the creation of an international partnership that enables MAXIMUS to deliver the award-winning AutismPro® software solution to the US education market.
Recent studies show a startling increase in the incidence of autism world-wide. In 2003, one study noted that one child in every 166 in North America was diagnosed with autism but it has since risen to one child in every 150. Many experts believe that the rate will rise even higher. Another study calculates that 67 children are diagnosed with autism each day in the US. With an impressive collection of seasoned special educators, world-renown autism specialists and technology development experts, VEC created AutismPro® in 2006 -- the first web-based software package designed specifically to enable educators to deliver strategies that help put children with autism on a path to educational achievement.
AutismPro® uses intelligent software systems, state-of-the-art Internet technologies, and a vast collection of multimedia resources to deliver the collective brainpower of leading autism experts directly to the classroom educator. AutismPro® is a web-based tool for designing and delivering individualized autism programs. It includes thousands of printable activities, techniques to manage behaviors and dozens of teaching strategies. A special edition of the program, AutismPro® Educator, trains teachers and other school personnel working with children with autism, and provides them with the resources they need to educate children with autism in order to achieve the goals outlined in the Individual Education Program (IEP).
"Experts in the autism field wrote the content in the AutismPro® intelligent software," said Dr. Kathleen A. Quill, Director, Board of Professional Advisors for AutismPro®. "The rich content represents evidence-based best practices for children within the autism spectrum of disorders as defined by the US National Research Council in 2001," said J. Brian Neill, VEC Chief Executive. "Joining forces with an established and reputable education organization like MAXIMUS propels this important solution to schools and colleges throughout the US. This partnership promises to put AutismPro® in more classrooms, giving more educators the tools they need to design and implement autism programs that meet the specific needs of each child."
MAXIMUS Educational Services Division President, Dr. Philip E. Geiger, said "With TIENET® (the MAXIMUS Special Education Case Management and Instructional Management Software), MAXIMUS has become an industry leader in the provision of cutting-edge technology tools that benefit special education students and teachers. We're pleased to continue our mission by offering AutismPro® to create solutions for students with autism."
TIENET® is a comprehensive web-based special education case management system that manages the special education processes from pre-referral through IEP development and 504 programs. It promotes staff accountability and ensures compliance with state and federal Special Education reporting requirements mandated by the IDEA 2004 reauthorization. Additionally, it has robust reporting capabilities, ranging from customized administrative ad hoc reports to mandated state reports. TIENET® also has a curriculum, instruction and assessment management system and Response to Intervention components with the capability of tracking learning plans and e-portfolios for special and general education students. In short, it is a comprehensive end-to-end instructional management system for all students.
About Virtual Expert Clinics:
Virtual Expert Clinics (VEC) delivers online programs to support individualized educational planning for children with special needs. Their first product, AutismPro® blends the expertise of world-class autism experts with intelligent software to deliver student achievement through helping teachers design programs for children with autism. VEC is located in the National Research Council Building on the University of New Brunswick campus. AutismPro® is a subscriber-based online program that guides users in planning and carrying out a program for teaching children with Autism.
Learn more at http://www.autismpro.com
Contact:
Thomas Mitchell
Media Manager
AutismPro, Virtual Expert Clinics
46 Dineen Drive, Suite 347
National Research Council Building
Fredericton, NB
E3B 9W4
Phone: 506.474-8134
About MAXIMUS:
MAXIMUS, Inc. is one of America's leading government services companies devoted to providing program management, consulting and information technology services. MAXIMUS has more than 5,200 employees located in more than 220 offices in the United States, Canada and Australia. MAXIMUS is included in the Russell 2000 Index and the S&P SmallCap 600 Index.
Learn more at http://www.maximus.com/educationalservices
Contact:
Dan Rouse
Director of Marketing
MAXIMUS Educational Services
7320 E. Butherus Dr. Suite 204
Scottsdale, AZ 85260
480.483.7596
###