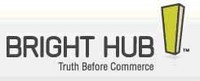 ...StuffIt is definitely the compression tool of choice.
Troy, NY/Arlington, VA (PRWEB) January 16, 2008
Technology experts from the security, information and computer development fields at BrightHub.com recently reviewed three top utility computer software packages, and advised the general public on the need for this often overlooked and valuable addition to your software library.
"Hard drives can't be trusted...," states Joao Cardosa, a seasoned computer developer and Microsoft MVP. "...DVDs are even less reliable. Are you surprised?" Cardosa goes on to review Acronis True Image Home, a tool he awarded a 5-star rating and that can, in his words, "save the day." Cardosa also described Acronis as "a steal", prompting a rating of excellent.
David Berry, a Microsoft Certified Professional and author, explains how the Windows system registry "can cause slow system performance and even system crashes." Says Berry, "...the registry can become bloated or even corrupted as you make changes to your system....the goal of a registry cleaner is to restore your system to a healthy working state." Berry reviewed 3BSoftware Registry Repair Pro, awarding a 5-star rating, and stating that it is "an excellent registry cleaner that will handle the job for you with out causing more problems."
"Even though hard drives consistently get bigger, storage is not infinite," advises Ben Rothke, author and network security professional in his 5-star review of StuffIt Deluxe Windows, a utility computer software he describes as "the Swiss Army knife of data compression". Data compression is a great way to save space and according to Rothke, "...StuffIt is definitely the compression tool of choice."
As consumers demand increasingly larger hard drives and as DVD usage soars, the need for PC maintenance and utility software tools become evident. These three 5-star utility software programs contribute to keeping your computer stable and efficient. You can read the full reviews by Rothke, Cardoso, and Berry at BrightHub.com. For more information on Bright Hub, contact Kim Lloyd at (518) 822-0233.
About Bright Hub
Bright Hub is a social commerce network company featuring monetization solutions for bloggers, websites, ISV's, and content contributors. Bright Hub syndicates targeted, rich product content to drive commerce transactions to create a premium online advertising option for blog sites and web sites. Bright Hub also offers reviewers a way of getting paid for sharing their expertise. Bright Hub is a venture-backed company, headquartered in Troy, New York. For more information, visit http://www.brighthub.com.
###