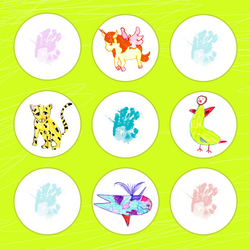 San Francisco, CA (Vocus) January 17, 2008
Poloppo is the first company to empower child artists by paying royalties directly on products sold displaying their work. The ingenuity of the children combined with the unique business model of Poloppo provides a fertile ground for creative brilliance.
Poloppo is excited to announce the latest opportunity that gives kids a chance to express their creativity and have a voice that will make a difference in helping to save endangered species throughout the world. Poloppo's Fall/Winter 2008 collection from its line of apparel for kids and babies proudly displays art from child artists who have drawn their favorite endangered animal and get to have it featured on high-quality, eco-friendly sweatshirts, t-shirts, dresses, aprons and bibs.
According to EndangeredSpecie.com the number one way for kids to step in and help protect endangered species and their habitats is to draw pictures of their favorite endangered creatures and send them to their political representatives. Because of Poloppo?s reach and distribution, senators and members of congress are not the only ones who will benefit from the youthful perspective.
Poloppo is proud to be a part of both raising awareness for endangered species survival as well as providing kids with an opportunity to become international 'celebrity' artists. This ultra-hip collection of children's apparel will debut in London at the Bubble Kids Trade Show on January 22nd and 23rd at Olympia2.
Bubble London launches in January 2008. In line with the philosophy and aesthetics of Bubble New York, Bubble London's philosophy is to bring a new generation of kids trade show to the marketplace. Each event is carefully conceived as a focused trade show in a wonderful space where retailers can meet exhibitors from 360 degrees of the kid's world: clothing to toys, shoes, accessories and more. The Exhibitor's list features a global mix of brands, either young/upcoming or already established as icons of a new generation of children's products.
###