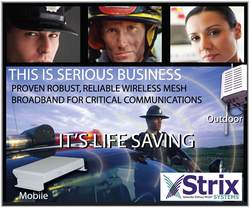 Strix Systems is showing once again why they are a market leader
Calabasas, CA (PRWEB) January 16, 2008
Strix Systems, a worldwide leader in high-performance wireless mesh networking, today announced the introduction of the highest-powered, highest performance Mobile Wireless System (MWS) 100 to its award winning Access/One® product line. The MWS is the industry's highest performance mobile extension which enables on-board video surveillance, voice over IP and critical data applications for in-vehicle wired or wireless client connectivity in public safety, railway, municipal, strategic and tactical wireless broadband mesh networks.
Strix's Innovations in Fast-Roaming Go Unparalleled in the Industry
Powered by Strix Access/One Edge™ OS 2.1, Strix's innovations in fast roaming and high-speed broadband connectivity makes the MWS 100 the highest performance CPE for Mobile WiFi connectivity in the industry. The small, durable and portable MWS is designed for any vehicle type and works in concert with Strix's Access/One Outdoor Wireless Systems (OWS) to create an end-to-end mobile broadband wireless experience that achieves the longest reach and instant mesh hand-off compared to any other mobile wireless device on the market.
The MWS 100 utilizes industry leading Strix Access/One Edge™ capabilities to achieve the continuous high throughput and low latency via intelligent radio algorithms with optimized channel selection, dual diversity, significantly enhanced roaming algorithms, and maximized signal strength via the highest power output. The MWS quickly detects new and alternate wireless nodes while traversing the larger wireless mesh network and instantaneously establishing best network path criteria for seamless transitions maintaining any video, voice and data sessions.
The MWS 100 is packed with a unique set of innovations including 802.11a and high power (DSRC-C) 4.9 GHz for public safety applications or optionally 802.11g for unlicensed client access. The MWS also includes an Ethernet port for wired connectivity to in-vehicle laptops and on-board systems. The easily configured and installed MWS yields superior high receive sensitivity, high-speed forwarding between radios and the Ethernet port and Layer 2 Network Address Translation (NAT) and VLAN mapping with preserved Quality of Service.
"Strix MWS 100 achieves what no other in-vehicle mobility products can - broadband throughput and high-speed mobile hand-off from node to node with zero packet loss resulting in a seamless network experience," said Steve Coffelt, Director of Product Management for Strix Systems. "This is the mobility product the wireless broadband mobile market has been missing."
Strix Shatters the Concept of Mobile Wireless Broadband Networks with "SuperCloud"
Strix is also introducing Strix Mesh™ OS 3.1 with revolutionary innovations in mesh networking for transportation systems. Strix has completely shattered the concept of dynamic large-scale and long-distance mobile mesh networks with its new "SuperCloud fleet management" capabilities. Current railway deployments with Strix Systems Access/One products enable unparalleled range and performance for track-side-to-train and in-train multi-car mesh networking. With Strix's new "SuperCloud" capability, locomotives and passenger or freight cars (carriages) can be changed without the need for configuration/reconfiguration. Any locomotive can connect to any carriage and all Strix Access/One nodes, including the MWS and OWS are fully visually managed from a centralized or other remote location. Other significant enhancements to Strix Mesh™ OS 3.1 includes the latest in fast roaming algorithms for wireless mesh networks, Intelligent background scanning, Dynamic Host Configuration Protocol, high-speed mobile fast authentication services, multi-VLAN enhancements, Mesh and Edge management and more.
"Think about the possibilities enabled by a wireless mesh itself becoming mobile," said Craig Mathias, a Principal with the wireless and mobile advisory firm Farpoint Group. "Transportation and public safety applications are only the beginning. The Strix Access/One MWS 100 is re-defining broadband mobility, and will enable the next generation of innovative and indeed remarkable wide-area wireless solutions."
"Strix Systems is showing once again why they are a market leader," said Daryl Schoolar, Senior Analyst for In-Stat. "The MWS is just another example of Strix's ability to deliver a uniquely valuable product that's critical to a number of vertical markets."
Availability and Pricing
For more information on the MWS100 please go to: http://www.strixsystems.com/products/mws.asp . Please contact Strix Systems for pricing and availability or go on-line to http://www.strixsystems.com/inforequest/ .
About Strix Systems
With over 500 customers in over 30 countries worldwide, Strix Systems is a worldwide Leader in Wireless Mesh Networking, in market share (according to Heavy Reading, Infonetics and In-Stat) and technology (Iometrix). Strix's Access/One products are the industry's only modular (chassis-based) mesh systems, delivering the largest capacity, highest throughput and best scalability. This new generation of products provides the broadband mobility and reach to support voice, video, and data applications. Sold globally by a network of first-class distributors and integrators, Access/One solutions have been deployed in hundreds of networks worldwide, outdoor and indoor, for service providers, metros, public safety, government, energy, manufacturing, transportation, hospitality, education, enterprises, and residential markets.
For Strix Systems case studies on public safety, municipal networks and railway networks please go to: http://www.strixsystems.com/case-studies/ . To view Strix Systems latest video case study collection please go to: http://www.strixsystems.com/video/missioncritical.html .
Strix Systems products and services are available worldwide through a premium partner ecosystem of distributors, service providers, resellers and systems integrators.
Argentina • Australia • Austria • Bangladesh • Belgium • Bhutan • Brazil • Bulgaria • Cambodia • Canada • Chile • China • Colombia • Congo • Costa Rica • Croatia • Cyprus • Czech Republic • Denmark • Dubai, UAE • Finland • France • Germany • Ghana • Greece • Hong Kong • Hungary • India • Indonesia • Ireland • Israel • Italy • Japan • Jordan • Kenya • Korea • Kuwait • Luxembourg • Malaysia • Mexico • The Netherlands • Macedonia • Monaco • New Zealand • Norway • Peru • Philippines • Poland • Portugal • Puerto Rico • Romania • Russia • Saudi Arabia • Scotland • Sierra Leone • Singapore • Slovakia • Slovenia • South Africa • South Korea • Spain • Sri Lanka • Sweden • Switzerland • Taiwan • Thailand • Turkey • Uganda • Ukraine • United Kingdom • United States • Venezuela • Vietnam • Zimbabwe
For more information about Strix Systems Partners, please visit http://www.strixsystems.com/partners/ or for general information please go to: http://www.strixsystems.com/ .
Strix Systems offers an RSS feed with the latest news at: http://www.strixsystems.com/publicrss.xml .
NOTE: Strix Systems and Access/One Network are trademarks or registered trademarks, in the United States and certain other countries, of Strix Systems. Additional company and product names may be trademarks or registered trademarks of the individual companies and are respectfully acknowledged.
###