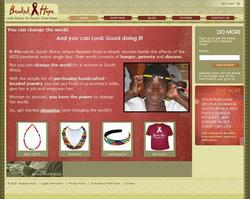 Women love jewelry but they also love to help other women
Cincinnati, OH (PRWEB) January 23, 2008
When looking for a sweetheart's Valentine's Day gift, nothing says love like jewelry…and hope. Shoppers can have both by purchasing from BeadedHope.com, a Cincinnati-based organization that sells handmade beaded jewelry and accessories, including a selection of red products that are perfect for the holiday.
Beaded Hope employs women in Mamelodi, South Africa, who are impacted by HIV/AIDS to create handmade beaded jewelry and accessories. In turn, the women can buy medicine and feed their families. Beaded Hope sells the handcrafted beadwork on its web site and donates a portion of the proceeds to AIDS programs in South Africa.
"Women love jewelry but they also love to help other women," said Beaded Hope founder, Jennifer Davis. "With a purchase from BeadedHope.com, you can do both. Present her with a gift that keeps on giving, such as a red Ndebele (pronounced in-da-bay-lee) necklace, and you can feed a woman's family for more than five days.
Besides the Ndebele necklaces , other red selections include Zulu bangle bracelets, red headbands and red AIDS awareness ribbon pins in various styles. A one-of-a-kind pink and red Imbulunga (pronounced imbu-lu-ŋah) necklace and earring set is also available. Prices range from $6 to $75.
"Beaded Hope gifts are great for daughters, too, because you can teach them to love outside of themselves," said Molly O'Brien, mother of Emma, age 8. "I think the narrow red headband is the perfect gift for a little girl on Valentine's Day."
While red jewelry is always a classic choice for Valentine's Day, many other gift ideas are available, from classic neutrals to trendy metallics, in necklaces, earrings and bracelets.
"With a Beaded Hope purchase, you can show her you love her with a gift that spreads hope," Davis added.
For more information about Valentine's Day gift ideas and how Beaded Hope is spreading hope and love in South Africa, visit BeadedHope.com.
###