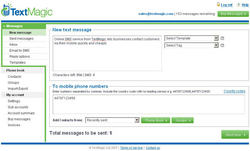 More than 1 billion text messages are sent every week in the UK, making text messages the perfect way to deliver personalised services quickly and cost-effectively
London UK (PRWEB) January 17, 2008
TextMagic , a provider of easy-to-use online text messaging solutions, today launched its new and improved web-based SMS service, TextMagic Online. This new generation of online SMS delivery allows businesses and individuals to send text messages directly from any computer, mobile or handheld device without the need to install dedicated software. The simple online interface lets users send multiple or individual texts, create and manage campaigns and keep in touch with valued customers with just a few clicks, all for just a few pence.
TextMagic Online is a quick and easy way to create ad-hoc awareness campaigns and communicate with customers via their mobiles. Its web-based interface means it's more scalable than a desktop solution and is secure - all personal information is protected with secure data transfer protocol, so consumers can trust SMS messages sent with TextMagic. Mobile contacts can be easily imported from different customer relationship management (CRM) systems and programmes like Outlook, Excel, Salesforce.com and many more.
Companies can use SMS as an effective way of communicating with customers in a way that is more immediate and effective than email or phonecalls. For example, TextMagic Online allows estate agents to update multiple buyers and sellers on viewings and new properties the moment they come onto the market, all with a single SMS. Logistics and delivery companies can easily use text messages to arrange deliveries and confirm good have arrived - potentially ending the problem of never being at home when the delivery van calls.
"More than 1 billion text messages are sent every week in the UK, making text messages the perfect way to deliver personalised services quickly and cost-effectively," commented Priit Vaikmaa, Marketing Manager of TextMagic. With over 70 million mobile users in the UK alone, mobile is the most ubiquitous device we own, and with the increase use of mobile for business, our service provides an essential business tool for companies that are looking for tailored ways to market their services and manage their customer relations."
TextMagic's Online service does not require set-up fees or subscription -- customers only pay for the text messages you send. TextMagic enables bulk purchase of SMS messages with the cost decreasing with volume. Depending on the amount these start from as little as 6p. The TextMagic system can handle 20 SMS messages per second making it a total of 72,000 messages in an hour and, unlike other similar services, any replies from customers are delivered into your account at no extra cost.
If you would like a free trial of this service, please contact the PR team at the email address below.
TextMagic Online is one of three products available from TextMagic:

Email to SMS provides the freedom of sending texts from your custom email application or from from your email client
MagicMessage is a downloadable application which you can use on your PC with any standard Windows application
About TextMagic
TextMagic Ltd develops flexible and easy-to-use web-based text messaging solutions for small businesses. For any business looking to engage with customers through their mobile phone, TextMagic's flexible online text messaging solution allows the creation of personalised, relevant messages from any computer with Internet access that reach customers on their mobile, wherever they are. The company was founded in 2001, and has more than 5,000 active paying customers, ranging from small organisations to global blue chip companies. In 2007, TextMagic sent over 2 million text massages with its products. TextMagic's service has helped hundreds of companies change the way they talk to their customers and employees, offering an inexpensive, secure and scalable way to add text messaging to their business communication arsenal. For more information, visit TextMagic.com
Contact:
John Ozimek
Mi liberty
T : +44 (0) 20 7751 44 44
###