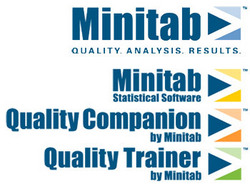 State College, PA (Vocus) January 16, 2008
Minitab Inc., announced today that customers of Minitab Statistical Software, the company's flagship product used to analyze data in virtually every major Six Sigma quality improvement initiative worldwide, dominated the list of winners of two recent quality awards.
Three such companies received the prestigious 2007 Malcom Baldridge National Quality Award. Established in 1987 and presented annually by the President of the United States, the Baldrige Award is the top honor a U.S. company can receive for quality achievement and organizational performance excellence.
Virtually all the companies honored at the Global Six Sigma Summit & Industry Awards held in Las Vegas in October use Minitab Statistical Software to increase profits and raise the standard of goods and services they offer.
As the leading provider of software and services for quality improvement, Minitab proudly congratulates the following companies and is honored to provide the data analysis package they use to achieve success.
Malcom Baldridge National Quality Award Winners
PRO-TEC Coating Co., an industry leader in advanced high-strength steel coating, received the Baldridge Award for small business. In an industry that has been undergoing widespread bankruptcies and consolidations, PRO-TEC's quality improvement programs have helped its profits double over the past five years.
Sharp HealthCare, a not-for-profit integrated regional health care delivery system based in San Diego, received the Baldridge Award for health care. The economic value of community benefits Sharp provides has increased during the period 2001-2006 from approximately $100 million to approximately $180 million.
The U.S. Army Armament Research, Development and Engineering Center, the research and development center for armaments used by the U.S. Army and other organizations, received the Baldridge Award for nonprofit organizations. ARDEC, the first Department of Defense organization to receive the award, implemented a comprehensive performance culture over the past 15 years, resulting in reduced defects and enhanced customer satisfaction.
Global Six Sigma Summit and Industry Award Winners
Texas-based Valley Baptist Health System garnered three Global Six Sigma Summit and Industry Awards —the highest number ever collected. In addition to receiving both the Best Achievement of Six Sigma in Healthcare and the Platinum Award for the overall most outstanding achievement through Six Sigma, Valley Baptist's Dr. Tomas A. Gonzalez received the Six Sigma Vice President of the Year honor for leading the system's Six Sigma initiative. His initiatives helped Valley Baptist reduce patient death from heart failure by 50 percent, complications from surgery by 77 percent and readmission rates by12 percent.
ATMI received the Best Achievement of Design for Six Sigma and Innovation for using the methodology to produce world-class semiconductors and achieve major cost savings.
Lonmin Plc, the world's third largest producer of platinum, received the Best Achievement of Six Sigma in Manufacturing for completing 125 projects, saving $78 million in two years.
BMO Financial Group received the Best Achievement of Integrating Lean and Six Sigma in Financial Services for a deployment aimed at improving customer service, which has delivered $7.9 million in annual savings.
The Depository Trust & Clearing Corporation received the Best Achievement of Six Sigma in Service & Transactional Environments for developing an integrated approach to administering new clients, speeding up workflow status, and improving customer experience.
WNS Global Services Ltd received the Best Achievement of Six Sigma in Outsourcing for an effort that has so far involved 292 Six Sigma projects and 71 Lean projects, generating $10 million in savings.
Unisys received the Best Achievement of Six Sigma in Sales and Marketing for using the methodology to significantly expand the company's high quality sales pipeline.
About Minitab Inc.
Minitab Inc. is one of the world's leading developers of statistical analysis and process improvement software for academic and commercial users.
Minitab Statistical Software is the preferred package for businesses of all sizes and is used in more than 80 countries by thousands of distinguished companies, including Toshiba, 3M, Honeywell International, Wachovia, DuPont, Samsung and leading Six Sigma consultants. It has been used to implement virtually every major Six Sigma quality improvement initiative, and to teach statistics in over 4,000 colleges and universities worldwide.
Quality Companion by Minitab is the package professionals use to plan and execute Six Sigma projects in companies around the world, including Xerox, ITT Industries, Providence Health System, Nissan North America, and LexisNexis.
Minitab Inc., headquartered in State College, Pa., operates offices in the United Kingdom, France, and Australia, and has additional representatives throughout the world. For more information, visit http://www.minitab.com
For more information or materials, including screen shots, product packaging images and logos, and other graphics, contact Eston Martz in Minitab media relations.
###