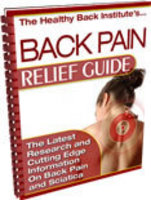 It's tough, but women should ditch the heels unless they want to live a life full of pain
(PRWEB) January 16, 2008
High heels could be a major culprit in recurring back pain according to recent ABC reports. But can women bear to live without their high heels and other fashionable, yet not so functional footwear?
"It's tough, but women should ditch the heels unless they want to live a life full of pain", says Back Pain Specialist, Certified Fitness Trainer and Founder of The Healthy Back Institute, Jesse Cannone.
Washington DC Area Expert, Jesse Cannone C.F.T., C.P.R.S. is available to reveal the long term impact of impractical footwear on our backs, as well as strategy to repair damage already done.
With 31 MILLION Americans dealing with back pain (according to the American Chiropractic Association) Jesse Cannone's expertise is sure to help.
He can also discuss:

Little Known Signs You Could Have A Back Problem Even Without Painful Symptoms
The 7 Back Pain Mistakes Everyone Makes
The Two Words You'll Never Hear From Your Doctor That Are Keeping You in Pain
Why Traditional Methods To Treat Back Pain Almost Always Fail
Why Active People Have More Injuries And What To Do To Minimize Risk
The Simple Techniques That Eliminate Back Pain and Can Be Done Anywhere, Even At Work
Jesse Cannone is available for media requests including lively TV segments with visuals, and can perform sample back strengthening moves with the hosts for a fun and informative interview.
Check out http://www.LosetheBackPain.com for FREE Pain Relief Guides and Articles revealing the latest in research and treatment breakthroughs for everything from herniated discs to sciatica flare ups to sleep depravity solutions.
BIO: Back Pain Specialist Jesse Cannone C.F.T., C.P.R.S. is Cofounder of The Healthy Back Institute, a Certified Fitness Trainer, Certified Post Rehabilitation Specialist and Certified Specialist in Performance Nutrition.
As one of the country's top fitness trainers, Back Pain Specialist Jesse Cannone has been featured as an expert source with the national media, such as Associated Press, Woman's World and Entrepreneur Magazines. His articles have been showcased in dozens of publications, including Men's Fitness and online with popular sites such as Ediets.com.
Mr. Cannone has authored a number of fitness books and is known most for his international best-selling "Lose the Back Pain System", a self-assessment and self-treatment program for back pain and sciatica sufferers that allows people to identify and address the underlying cause of their pain. To date, more than 35,000 copies of the program have been sold in more than 91 countries around the world.
CONTACT:
Jesse Cannone
Director of The Healthy Back Institute
328 Main Street
Gaithersburg, MD 20878
Phone: 800-216-3217
Fax: 800-216-3217
###