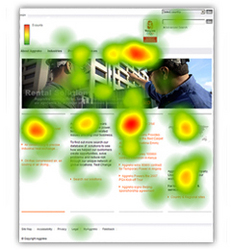 This means optimal design that improves communication and, ultimately, facilitates increased clicking where you want your customers to click.
Traverse City, MI (Vocus) January 17, 2008
Imagine knowing exactly where visitors are looking when they enter your website. What do they see, when, how often and how long? What do you want them to see? With Oneupweb Eye Tracking, you can make these answers one in the same.
"Eye Tracking enables us to observe the physiological movements of the human eye and analyze the psychological implications of those movements," explains Oneupweb CEO Lisa Wehr. "In basic terms, it allows us to look at a website through the eyes of a typical visitor to see what's attracting them and what they're ignoring."
With Oneupweb Eye Tracking, each critical element on a web page, email, print ad and more - design, copy writing and messaging - is analyzed to tell what's working, and what isn't. This data can be broken down into gaze plots, heat maps and clusters. It is then used to perfect a variety of variables including placement, size, messaging, font, color, spacing, imagery and more.
"The result is really the best possible creative," says Wehr. "This means optimal design that improves communication and, ultimately, facilitates increased clicking where you want your customers to click."
Other benefits of Oneupweb Eye Tracking include:

Homepages and Landing Pages: Improve layout and design.
Consumer Checkouts: Refine navigation and functionality.
Product Listings: Facilitate increased clicking.
Email: Better communication, design and conversion incentives.
Banner Ads: Comparative analysis of pre-launch and live versions.
Video: Provide graphic, formatting and production solutions.
Print: Visual appeal with clear messaging.
"We are offering marketers a deep insight into human behavior, without distraction from intrusive machinery," says Wehr. "This technology is state-of-the-art. Something people need to see and experience to believe."
More information about Oneupweb Eye Tracking services can be found at OneUpWeb.com or by calling toll-free 1-877-568-7477.
About Oneupweb
Oneupweb has been an innovator in online marketing for more than a decade, creating integrated online marketing plans that include natural search engine optimization, paid search marketing, podcast production, social media marketing, usability audits with eye tracking and media placement. An award-winning firm, Oneupweb was named a 2006 Michigan Top 50 Company to Watch and is the only three-time winner of the prestigious ClickZ Best Search Engine Marketing Vendor Award. CEO, Lisa Wehr, an Ernst & Young Entrepreneur of the Year, has been named to BtoB Magazine's Who's Who List four years and is recognized as a Leader & Innovator by Lawrence Technological University. The company publishes a blog entitled StraightUpSearch.com and their corporate podcast series, One for the Money, was honored with a 2007 Silver Davey Award. Oneupweb is a privately held company located in Traverse City, Michigan. For more information on Oneupweb, please contact 231.922.9977 or visit OneUpWeb.com.
###