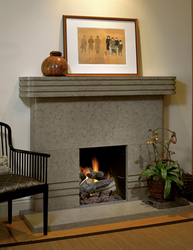 Yucaipa, CA (PRWEB) January 18, 2008
With cold winter days, and even colder winter nights, it's no wonder that plumes of smoke are rising from fireplaces around the country. The decorative concrete options available for concrete fireplaces abound, and as one of the most visible design elements in a room, they not only provide heat, but serve as a reflection of the owner's personal style.
The Concrete Network, the largest and most comprehensive source for concrete information, offers an extensive online fireplace photo gallery featuring a collection of photos offering different design ideas and options for incorporating a concrete fireplace in your home.
Incorporating concrete into any fireplace design can open the door to a great variety of options. The elements framing the fireplace--the mantel, hearth and surround--do the most to transform a room's appearance and establish a mood. With the right surround, a fireplace becomes the heart and soul of a room and embodies its character.
The appeal of updating interior fireplaces comes from families spending more and more time indoors keeping warm and entertaining during the winter months. Surrounds, mantels, and hearths can be customized with concrete to fit any existing interior décor and architectural design.
Few materials can compete with concrete when it comes to versatility. It can be molded into any shape, integrally colored or stained to match nearly any hue, and exhibit textures ranging from rough to highly polished. Artisans can replicate virtually any look, ranging from ornate to contemporary.
The concrete photo gallery is updated every Friday offering new photos of custom and unique designs and applications. Photos for the photo gallery have been collected from contractors around the country and are for design idea purposes only.
Read more about concrete.
Established in 1999, The Concrete Network's purpose is to educate consumers, builders, and contractors on popular decorative techniques and applications. These include stamped concrete, stained concrete floors, concrete countertops, polished concrete, and much more. In 2007 The Concrete Network Website had over 11 million visitors researching decorative concrete.
The site excels at connecting buyers with local contractors in their area through its Find a Concrete Contractor service. The service provides visitors with a list of decorative concrete contractors throughout the U.S. and Canada, and is fully searchable by 23 types of decorative concrete work and 202 regional areas throughout North America.
Article photos courtesy of Buddy Rhodes Studio.
###