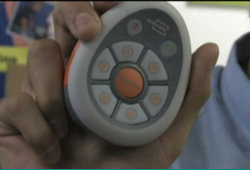 The Promethean video contest brought forward many of the most innovative Activclassrooms in America
Atlanta, GA (PRWEB) January 18, 2008
Promethean, a global leader in interactive learning technology, today announced the winners of its "Enter My Activworld" video contest. The competition, which ended December 15, 2007, welcomed K-12 teachers throughout the United States to submit entries in the form of 2-5 minute videos documenting their use of Activclassroom technology for a chance to win prizes.
"The Promethean video contest brought forward many of the most innovative Activclassrooms in America," said Pat Henry, Vice President of Marketing for Promethean Americas. "Every single video entry was completely different. All of them were heartfelt and inspiring. It took us several full days to watch them all and we loved every minute of it."
Winning videos include:
First Prize - Cindy Wallace and students from Evangel Christian Academy in Louisiana for their video titled: "Making Math Accessible" (will receive a full Activclassroom Makeover and All-inclusive trip to San Antonio, Texas to be recognized at NECC 2008)
Watch 1st Place Activclassroom Video
Second Prize - Debbie Dawson and students from Glen Cove Elementary in Virginia for their video titled: "A Brief History of Educational Technology" (will receive $3,000 in Promethean Activmoney to be used on any items sold through Promethean and its partners)
Watch 2nd Place Activclassroom Video
Third Prize - Lynn Winn and students from Lee Middle School in Georgia for their video titled: "Enter MY Activworld" (will receive $2,000 in Promethean Activmoney to be used on any items sold through Promethean)
Watch 3rd Place Activclassroom Video
Honorable Mentions include submissions from Kelly Gilchrist and students, McCurdy Elementary School in Georgia; Nicholas Pearce and students, Westfield Intermediate School in Indiana; Havena Marks and students, Adobe Bluffs Elementary in California; Laurie Maccri and students, Hillside School in New Jersey; and Susan Lloyd and students, Baxterville School in Mississippi.
About Promethean
Promethean is a global leader in interactive learning technology that empowers teachers to engage, educate, assess and motivate learners. Developed by and for educators, its award-winning products help teachers to prepare digital lessons quickly and with greater ease. The technology enables them to create, customize and integrate text, web, video and audio content, so they can more easily capture students' attention and accommodate different learning styles.
Promethean Activclassroom solutions are helping educators teach and students learn worldwide with Activboard, the world's most durable interactive whiteboard technology; Activstudio, a software platform for secondary teaching; and Activprimary, the only product designed specifically for use in primary schools and kindergarten. It also offers wireless hand-held Learner Response Systems that permit instantaneous assessment of pupils' comprehension of lessons. Beyond the classroom, Promethean offers training and support to ensure maximum results and return on investment, while also hosting the world's largest online interactive whiteboard community, http://www.prometheanplanet.com/.
Promethean is headquartered in Blackburn in the United Kingdom. Its products are distributed through a network of partners and inspire millions of learners in more than 70 countries.
###