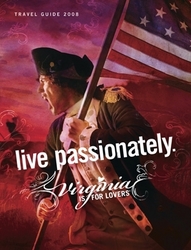 Richmond, VA (Vocus) January 22, 2008
The Virginia Tourism Corporation today announced the 2008 Virginia Travel Guide is available free to anyone interested in living life to the fullest in Virginia.
Live Passionately-Virginia is for Lovers is the theme for the 2008 guide, with 228 pages of photography, getaway ideas and regional highlights enticing travelers to come to Virginia and live out their passions for wine, music, heritage, outdoor adventure and other fulfilling experiences.
The 2008 Virginia Travel Guide tells the story of more than 30 Virginians whose personal passions and deep love of life make Virginia an enriching travel destination. These passionate Virginians are innkeepers, winemakers, outdoor guides, chefs and musicians from across the state who are ready to welcome visitors and make their visit memorable. Award-winning photographer Cameron Davidson captured each of these passionate Virginians doing what they love in photographs throughout the new guide.
A love of travel is not limited to the human race. Animal lovers should check out the Virginia Travel Guide pages devoted to "purrfect" places to travel with pets including posh resorts, rugged trails, doggy happy hours and bakeries or "barkeries". With more than 500 accommodations that accept Fidos and Fluffies, Virginia is officially "pet-friendly".
Other guide highlights include a wine lover's dream - more than130 wineries each pinpointed on a state map, so visitors know the best places to sample Virginia's award-winning wines. History buffs will see why Virginia is one of the richest historical destinations in the nation, with information on heritage trails featuring 400 years of history touching on everything from Virginia Indians to African-American history to coal heritage. Small town treasures from Virginia's historic downtowns and Main Street communities grace the pages of the new guide. The guide highlights Virginia's 34 state parks, hundreds of miles of hiking trails, kayak trips and other adventures for people looking to feed their life force in Virginia's great outdoors.
Virginia's travel guide, published by the Virginia Tourism Corporation, conveniently lists attractions, events, and dining and lodging options in each region of the state. Go to http://www.Virginia.org or call 1-800-VISIT VA (1-800-847-4882) to request a free copy of the 2008 Virginia Travel Guide.
###