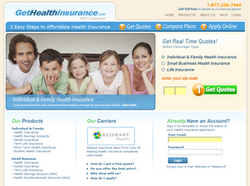 we can help them find a way to afford health insurance.
Miami (PRWEB) January 18, 2008
GetHealthInsurance.com, a start-up created by two savvy Miami businessmen with extensive experience in the health insurance industry, has started writing policies for individuals, families and businesses.
"If someone can afford to pay a monthly cell phone bill," says company CEO Christopher Olsen, "we can help them find a way to afford health insurance." An estimated 3.6 million Floridians have no health insurance and another 47 million are uninsured nationwide. Millions more are covered, usually through their employer, but are often dissatisfied with the cost, service and provider network.
GetHealthInsurance.com offers competitive rates on health and dental plans from more than 40 of the nation's leading health insurance companies, including United Healthcare, Humana, Aetna, Vista Health and Assurant Health.
Unlike its competitors, GetHealthInsurance.com offers real-time quotes for customers who visit their web site. This is presented in a side by side plan and rate comparison so the customer can make the best decision on the health plan that fits them best. Next they can apply directly on line. Quotes are also available, along with expert advice on line or by telephone. The toll-free number for GetHealthInsurance.com is 877-236-7444.
In addition to health and dental insurance for individuals, companies and groups, GetHealthInsurance.com can also write term life insurance, short-term health insurance and student health insurance. It can also help individuals and small businesses set up health savings accounts (HSA) and health reimbursement accounts (HRA).
Neal Schwabe of South Miami, a health insurance industry veteran, is president of GetHealthInsurance.com. Schwabe is the managing partner of the Schwabe Benefits Group, a Miami-based insurance brokerage with five offices across Florida specializing in employee benefits.
Christopher Olsen of Bal Harbour is chief executive officer of the company, headquartered in North Miami. Olsen earned a B.S from Florida State University, after which he spent five years with United Healthcare in a sales and executive capacity, followed by two years at Cigna HealthCare as new business manager.
This transmission may contain information that is privileged, confidential and exempt from disclosure under applicable law. If you receive this transmission in error, do not read, use or copy it. Please immediately contact the sender and destroy the material in its entirety, whether in electronic or hard copy format. Thank you.
http://www.gethealthinsurance.com
# # #