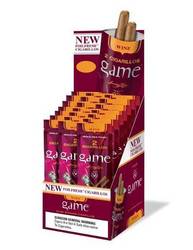 For the consumer, it means the cigar you are purchasing is as fresh as the day it was made.
Richmond, VA (Vocus) January 18, 2008
Swedish Match North America, a manufacturer of market leading brands of smokeless tobacco, cigars, and pipe tobacco, today announced the introduction of a new Foil Fresh™ pouch packaging method for two of its popular mass market cigar brands, Game by Garcia y Vega and White Owl. The inventive packaging is a direct response to consumer requests for a fresher cigar.
Swedish Match North America is noted for creating pioneering packaging---first introducing the foil pouch more than 40 years ago for one of its loose leaf products. Innovations on the technique have resulted in foil packaging specifically designed for the cigar consumer. "This is a first for mass market cigars," according to Brian Love, Director of Marketing, Cigars. "For the consumer, it means the cigar you are purchasing is as fresh as the day it was made." Foil Fresh™ pouches are available for single cigars or in a resealable pouches for 2 cigarillos.
Consumer research shows more and more cigar smokers are demanding freshness. 65% of consumers polled say freshness is the most important consideration, well ahead of taste and price. * Love says, "The level of freshness is the deal breaker and the moment of truth for a cigar smoker is squeezing the cigar and discovering its freshness."
Proprietary Freshness Research conducted on both foil wrapped and cellophane wrapped cigars compared the moisture level threshold at which a cigar retains its freshness. "There was a significant reduction of moisture in the cellophane wrapped cigars when stored in adverse conditions within 2 weeks," comments Love. "By week four they were dry. The new foil packaged products clearly passed the threshold well over 44 weeks with almost no moisture loss when compared to cellophane wrapped cigars."
Foil Fresh™ pouches are currently available on Game and White Owl cigarillo 2 packs. Foil Fresh ™ single stick packaging will be introduced on Game Palma and White Owl Peach and Grape blunts on March 17th of this year.
About Swedish Match:
Swedish Match is a global Group of companies with a broad assortment of market leading brands in smokeless tobacco, cigars and pipe tobacco, matches and lighters. Some of our well known brands include Red Man, Timber Wolf, Longhorn, Macanudo, Partagas, Cohiba, Borkum Riff, White Owl, Garcia y Vega, and Game. Swedish Match North America is headquartered in Richmond, VA, with manufacturing facilities in Owensboro, KY, Dothan, ALA, the Dominican Republic, and Honduras. For more information visit the website at http://www.swedishmatch.com
*Swedish Match North America Survey, August 2007
Sandy Fowler-Jones
Director of Communications and Public Relations
804-302-1710
###