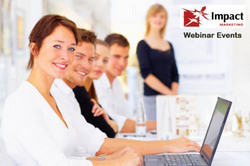 Most business owners have an idea as to what needs to be done
Atlanta, GA (PRWEB) January 17, 2008
Impact Marketing, an Atlanta-based agency, launched their new marketing training series geared at helping small business owners, entrepreneurs and independent professionals around the country grow their businesses systematically. The positive response of the announcement is reflective of the great need for practical small business marketing training and sales instruction ... which by some estimates has reached the billion dollar mark.
The format of the series will be group training via a webinar/telesession. Each workshop will consist of an hour long session with about 5-7 other business owners and professionals on the same conference call. The focus is not only to pass practical how-to information but to share the experiences and collaborate with other small business owners with similar challenges. The first workshop will be focused on helping small business owners develop a referral marketing program.
"Most business owners have an idea as to what needs to be done," says Scott Campbell, the company's founder. "But our training series offers the answers on how to get it done along with ideas and support from other owners who will keep them accountable."
The training series is being presented in collaboration with Duct Tape Marketing, the popular small business training organization out of Kansas City, MO. Duct Tape Marketing is a Forbes favorite for small business and marketing. The company's marketing system has been featured in the Wall Street Journal, Inc Magazine and CNN Money. Impact Marketing, Inc. is a certified coaching organization of the Duct Tape Coaching Network.
About Impact Marketing -- Impact Marketing, Inc is an Atlanta-based marketing agency that provides one-on-one and group instruction as well as self-guided programs to small businesses around the country. Their website is at http://www.impactyourcompany.com. Founder Scott Campbell is a popular speaker on the subject of marketing as is the author of the "Atlanta Marketing Center" blog at http://blog.impactyourcompany.com. Their phone number is 678-615-2418.
# # #