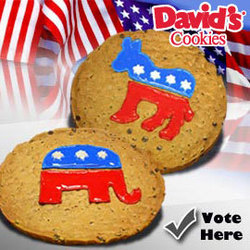 When our mini cheesecakes were honored in Good Housekeeping Magazine back in December, it really inspired us to come up with new designs.
Fairfield, New Jersey (PRWEB) January 17, 2008
David's Cookies, a leading online provider of fresh baked cookies has released 10 political designs and will predict the presidential winner for 2008 pending total sales before Super Tuesday.
Cookie-cake designs include the Republican elephant, the Democratic donkey and top candidates from both parties. Each product page links to the respective candidate's official site in an attempt to educate while keeping things light.
Designs are available online and David's Cookies will keep a running total for each design sold as part of their "Cookie Poll." Each cookie sold counts as one vote and winners will be announced on Wednesday, February 6, 2008. Cookies may be purchased online at DavidsCookies.com. Cookies include campaign logos for: Barack Obama, Fred Thompson, Hillary Clinton, John Edwards, John McCain, Mike Huckabee, Mitt Romney and Rudy Giuliani, listed on the site alphabetically by first name.
"We wanted to make an impact while keeping things fun, and this new concept got everyone excited as a great start to 2008," said Luis Florencia, David's Cookies Director of New Business Development. "When our mini cheesecakes were honored in Good Housekeeping Magazine back in December, it really inspired us to come up with new designs."
The chocolate chip cookie cakes, or "message cookies" are all 12" in diameter and weigh 1.5 lbs. Recipes are Kosher-Dairy with the idea that they can be given as gifts or presented at events to maximize consumption and appeal.
David's Cookies has more "goofy" ideas in store for their website and product line in 2008 to revitalize the online presence of their gourmet dessert line. Most ideas will center on their new line of message cookies, as well as new packaging concepts and product combinations, to be released throughout the year.
For additional information on Political Cookie Cakes, contact Rachel Murray or visit http://www.DavidsCookies.com. Samples are available to the media upon request. Fresh baked products typically ship out Monday - Wednesday. David's Cookies assumes no political alignment.
About David's Cookies - In 1979 Chef David Liederman (b 1949, New York, New York) began to create cookies that became the basis for the David's Cookies line of desserts, baked goods, and cookie dough. Liederman's first cookie shop was located in Manhattan, New York, and by the 1980s David's Cookies grew to over 250 cookie shops worldwide. In the late 1980s, many stores closed and David's Cookies was purchased by Fairfield Gourmet Foods, a New Jersey-based cookie manufacturing company. The line was expanded to include tarts and cakes when Fairfield Gourmet acquired Bittersweet Pastries. Most products produced by David's Cookies are kosher dairy.
###