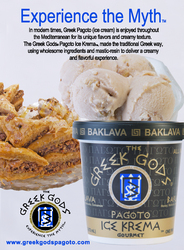 as it livens the life juices and increases the well-being.
Park City, Utah (PRWEB) January 17, 2008
The 2008 Sundance film festival happening this January 17-27 in Park City, Utah, will host several A-List celebrities, producers, writers and industry aficionados. There will be several venues hosting various events during the length of the festival. Filmpunks Entertainment is listed as "event producers" of the Dreamland Village event, while Dreamland's primary sponsor is Kerner Technologies.
The Green Door mansion event will also host a plethora of A-listers. The Green Door's talented team will be taking over a 20 million dollar mansion just minutes off of Main Street and transforming it into a plush Greendoor lounge for the Sundance A-list to socialize and unwind.
Greek Gods Pagoto Ice Krema will be showcased at both the exclusive Dreamland Village and Green Door mansion A-List events during the 2008 Sundance Film Festival. Pagoto Ice Krema will be on display throughout these venues, and offered up as one of the gourmet dessert items on various dinner menus.
Menu item to read:
Greek Gods Pagoto Ice Krema Trio:
Baklava, Honey Pomegranate and Chocolata Fig
(yes, it's really baklava ice cream!)
The Greek Gods are a Northwest based business, specializing in offering a variety of high quality gourmet ethnic Greek products to the retail, specialty, and foodservice marketplace. The Greek Gods actively market their extremely popular line of Greek yogurt products nationally, and have a substantial and ever-growing loyal base of consumers. During the 2007 holiday season, the Greek Gods introduced an extension to their ever popular line of Greek products by offering up a concept truly unique to the industry: Pagoto Ice Krema (Greek Gourmet Ice Cream)
"We are extremely enthusiastic about the opportunity of showcasing our Pagoto Ice Krema at exclusive events during this year's 2008 Sundance Film Festival in Park City, Utah. While we won't be able to attend the events this year in person, we feel that we will be well represented by our stylish and tasteful selection of Greek ethnic products, stated by the 3 Greek Gods."
What is Pagoto Ice Krema?
Pronounced: (PA-GO-TOE)
In Greece, ice treats have been enjoyed since ancient times. During the 5th century BC, ancient Greeks ate snow mixed with honey and fruit in the markets of Athens. The father of modern medicine, Hippocrates, encouraged his ancient Greek patients to eat ice "as it livens the life juices and increases the well-being." In the 4th century BC, it was well known that a favorite treat of Alexander the Great was snow ice mixed with honey and nectar.
In modern times, Greek Pagoto (Greek ice cream) is enjoyed throughout the Mediterranean for its unique flavors and creamy texture. Greek Gods Pagoto Ice Krema, made the traditional Greek way, using wholesome ingredients and mastic-resin to deliver a creamy and flavorful experience.
Mastic (also know as Chios Tears) comes from mastic trees grown in six villages (Mastichochoria) in the south of the small Greek island of Chios. Also know for its health properties; People in the Mediterranean region have used mastic as a medicine for gastrointestinal ailments for several thousand years.
The new Greek Gods Pagoto Ice Krema TM will be made using Organic Milk, and all natural wholesome dairy products and ingredients. Also, mastic will be introduced in concentrated form to add additional value and authenticity to the line. Varieties will initially include Baklava, Honey Pomegranate, and Chocolata Fig available in retail pint sizes or 1.5 gallon foodservice tubs.
Visit us at http://www.greekgodspagoto.com for more information.
Sundance Film Festival History
Did you know that The Sundance Film Festival was named by Robert Redford after his character The Sundance Kid from the movie Butch Cassidy and the Sundance Kid, probably because this is his favorite character among those he played?
Sundance began in 1978 as the Utah/US Film Festival in an effort to attract more filmmakers to Utah. Founded by Sterling Van Wagenen and Charles Gary Allison with Chairperson Robert Redford, the goal of the festival was to showcase what the potential of independent film could be. At the time, the main focus of the event was to present a series of retrospective films and filmmaker panel discussions; however it also included a small program of films made outside the Hollywood system, commonly known as independent films.
The jury of the 1978 festival was headed by Gary Allison, and included Verna Fields, Linwood Gale Dunn, Katherine Ross, Charles E. Sellier Jr., Mark Rydell, and Anthea Sylbert.
Sterling Van Wagenen subsequently left the film festival to help found the Sundance Institute with Robert Redford.
In 1984-85, the now well-established Sundance Institute, headed by Sterling Van Wagenen, took over management of the US Film Festival, which was experiencing financial difficulties. Gary Beer and Sterling Van Wagenen spearheaded production of the inaugural Sundance Film Festival which included Program Director Tony Safford and Administrative Director Jenny Walz Selby.
Over the following years several factors helped propel the growth of Utah/US Film Festival. First was the involvement of actor Robert Redford. Redford, a Utah resident, became the festival's inaugural chairman and having his name associated with Sundance gave the festival great attention.
Second, the festival moved from September to January. The move from late summer to mid-winter was reportedly done on the advice of Hollywood director Sydney Pollack, who suggested that running a film festival in a ski resort during winter would draw more attention from Hollywood.
References
1. The Associated Press (January 18, 2006). Sundance Mixed With Stars, Politicians. via Yahoo! News. Retrieved on 2007-11-11.
2. Sundance Mixed With Stars, Politicians. BAM. Retrieved on 2007-11-11.
3. Lauren David Peden (December 2005). Sundance Subdued. Freedom Orange County Information (coastmagazine.com). Retrieved on 2007-11-11.
-Sundance Institute
-Sundance -- A Festival Virgin's Guide -- unofficial resources and information for festival attendees.
-Deconstructing Sundance -- website using Bayesian analysis to predict how well films that play at the Festival will perform.
-Lathrios Film Festival Database -- the Lathrios listing for the Sundance Festival including a film list and analysis for the event.
-UKHotMovies.com Sundance Film Festival: A Lowdown -- history and background to the festival referred to as 'Cannes in the snow'
-The Queer Lounge -- provides information on the films with gay and lesbian content at the various film festivals in Park City as well as a hospitality area during the festivals
-[2] -- GreenCine report on Sundance 2005
-IMDb Biography of Robert Redford
-Festival Film Sundance -- news, articles, interesting information
-EyeForFilm.co.uk at Sundance -- Diaries, news and reviews from 2005-2008
-Joel Heller's Docs That Inspire Coverage of Sundance 2007 Documentary Selections
###