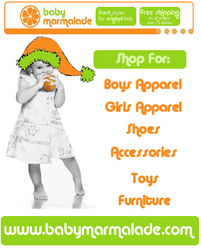 Boston, MA (PRWEB) January 17, 2008
BabyMarmalade.com has discovered the secret to what trendy moms really want -- fresh styles for hip kids. Partnered with its unique website design, BabyMarmalede.com offers a wide variety of clothing, toys, and unique accessories for children and mom. BabyMarmalade.com is reaching out of the box and offering several European inspired lines such as safe and lead free toys by Haba and modern furniture with a twist by Oeuf. Along with a large selection of high quality products partnered with a fresh look to website shopping, BabyMarmalade.com has reached a new level by taking the squeeze out of your typical online baby store.
"Today's trendy mom wants to shop on a site that offers unique products that fit not only their need but their children's sense of style. Carrying lines like Haba offers our customers stylish products that that a mom can feel safe about purchasing," says Yulia Orlova, the BabyMarmalade founder.
Today more and more websites geared towards mom are offering a wide selection of products allowing for a one stop shop for mom. BabyMarmalade.com is indeed one of those online stores joining the trend with a unique product offering and a large selection of toys, clothing, gifts, and accessories. Combine the large selection and vast product offering along with the incredible high-quality of their gifts and trendy accessories for tots, Baby Marmalade is poised to be the premier online store for quality yet trendy products for baby and Mom.
For fresh styles for hip kids check out Baby Marmalade