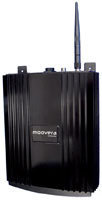 We're thrilled to have been selected to represent the UK in Barcelona
Sittingbourne, UK (PRWEB) January 21, 2008
Moovera Networks, a leading developer of fixed and mobile wireless access systems, today announced that UK Trade & Investment (UKTI) has chosen the company to represent British technology innovation at the Mobile World Congress 2008 in Barcelona. UK Trade & Investment is the Government organisation that helps UK-based companies succeed in an increasingly global economy. Mobile World Congress combines the world's largest congress for the mobile industry with a leading-edge exhibition that showcases the very latest developments in mobile from around the world. The UKTI exhibition stand is anticipated to be the largest presence of any country at the event.
"We're thrilled to have been selected to represent the UK in Barcelona," said Jim Baker, CEO and founder of Moovera Networks. "As a start-up just fourteen months old, we've accomplished a great deal in a short space of time with our family of fixed and mobile broadband gateway devices. For example, the top four UK transport operators are now using our Moovbox technology to deliver broadband services to passengers while providing remote CCTV access and vehicle tracking. We're now looking to take our ground-breaking solutions overseas and acquire a share of the global market. Having a presence with UKTI in Barcelona is an extremely important step to expanding our business internationally."
It is expected that over two hundred UK-based companies will be exhibiting at Mobile Congress World, held at Fira de Barcelona 11th-14th February 2008. With more than 1,400 exhibitors, the congress attracts over 55,000 visitors and is the largest mobile communications event in the world.
"We are delighted to have Moovera Networks participate on our exhibition stand, as the company is a clear example of how innovative British firms are helping lead the way in the mobile communications industry," said Andrew Cahn, Chief Executive of UK Trade & Investment. "Mobile World Congress is widely regarded as the event where commercial priorities and the direction of the industry emerge. It is important that UKTI helps British firms showcase their technologies on this global stage, opening up opportunities with potential new partners. Our key aim is to enhance the competitiveness of companies in the UK through overseas trade and attract a continuing high level of quality foreign direct investment."
Moovera will demonstrate the Moovbox M Series mobile broadband gateway and its integrated vehicle tracking and reporting software throughout the event on the UKTI exhibition stand #AV26 in The Avenue, Fira de Barcelona.
About Moovera Networks
Based in the United Kingdom, Moovera Networks is a privately-held manufacturer of industrial-grade fixed, mobile and portable wireless communications products that bridge Wi-Fi access with carrier-class networks including 3G UMTS/HSPA, WiMAX, TD-CDMA, HC-SDMA and FlashOFDM. Applications include commercial hotspots, city-wide municipal and in-vehicle wireless, public safety, construction, events, and secure corporate communications. Customers include national telcos and mobile carriers, local government and public safety authorities, ISPs, systems integrators and transport operators around the world. http://www.moovera.com
About UK Trade & Industry
UK Trade & Investment is the lead government organisation that provides support for UK companies looking to develop international business. It also provides support for UK overseas companies wishing to invest in the UK. UK Trade & Investment has a wide range of services, backed-up by a network of trade advisors worldwide who can provide market intelligence, advice on regulations, sales leads, and financial and practical support. http://www.uktradeinvest.gov.uk
# # #