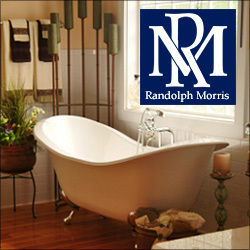 Vintage bathroom renovations have become increasingly popular among a broader group of income levels
Hazleton, PA (PRWEB) January 18, 2008
Vintage Tub & Bath, the industry's largest privately-owned retailer of clawfoot bathtubs, has recently launched their exclusive low-cost line of vintage bathroom fixtures, Randolph Morris. The launch of the new line, including vintage reproduction clawfoot bathtubs, faucets, and sinks, is a timely low-cost solution to a predominately high-price product line according to company Chief Marketing Officer, Allan Dick.
"Vintage bathroom renovations have become increasingly popular among a broader group of income levels," said Dick. "This, combined with a tough housing market, has created a demand for low-cost solutions. With Randolph Morris we are now able to offer high-quality clawfoot tubs, sinks, and faucets at prices much lower than the industry average."
According to Dick, Vintage Tub & Bath took the feedback from their 100,000 customers and developed its most price competitive line of bath products yet while maintaining comparable quality and construction to their higher-priced competitors.
"While building this line, we were careful to maintain the same or higher quality construction found in comparable brands," Dick explains. "For instance, each Randolph Morris bathtub utilizes advanced manufacturing processes such as vacuum casting, beveled edging for complete porcelain coverage, and hand-smoothed surfaces. We put this same level of engineering into all Randolph Morris products. The end result is some of the best quality construction in the industry at the lowest price."
Customers have agreed. According to Dick, Randolph Morris is quickly becoming among its top-selling lines, and customer feedback has been very positive.
Shoppers won't find Randolph Morris in their local bath supply stores, however. Vintage Tub & Bath is an Internet Retailer and sells all their products, including Randolph Morris, exclusively at their web site, http://www.vintagetub.com.
For more information about Vintage tub & Bath or Randolph Morris, visit their site or call 877-868-1369.
About Vintage Tub & Bath
Founded in 1992, Vintage Tub & Bath has become the largest family-owned retailer of clawfoot bathtubs. An exclusive Internet retailer, Vintage Tub & Bath has been named among Internet Retailer's Top 500 companies for two years in a row.
###