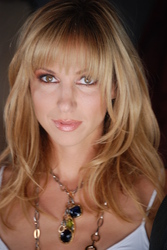 I'd put my ear to the speaker in my bedroom and run back to the piano and play -- left and right hands.
Hollywood, CA (PRWEB) January 18, 2008
With over sixteen million albums sold worldwide, Deborah Gibson is poised to pass on the pop idol torch to the next wave of musical prodigies through her passion and commitment as a judge on Total Pop Star and the launch of Camp Electric Youth.
"I was like the Miley Cyrus of my generation and I have a lot of experience and knowledge to offer today's aspiring performers," says Deborah Gibson. "Working with young talent and helping cultivate their skills is extremely rewarding."
Currently, as a celebrity judge on Total Pop Star, the biggest online singing competition, and as Camp Electric Youth's founder, Deborah Gibson is now fostering and mentoring so many young performers today. Each week on Total Pop Star, an Internet reality show, Deborah Gibson, Joey Lawrence and Andrew Van Slee judge video entries and live performances. In June 2008, after months of critiques and eliminations, one lucky singer will win a coveted recording contract with a major label. All aspiring singers can submit their entries online until May 18, 2008 for this season's showdown and a chance at winning one of the many prizes. Visit http://www.totalpopstar.com today!
Developing the next generation of young musical sensations, Deborah Gibson will spearhead Camp Electric Youth in collaboration with prestigious acting coaches Howard Fine and Cynthia Bain. The camp experience includes many workshops with celebrity professionals and concludes with an industry showcase for talent executives. A scholarship audition is scheduled to be held in Hollywood on February 2nd. All performers, from age 7 to 17 who are available from July 7th to August 1st and are interested in honing their skills in singing, acting and dancing, may qualify for an all expense paid tuition to Camp Electric Youth. To audition for one of several scholarships available, attend the open call on February 2nd at Howard Fine Studio, 1445 N. Las Palmas Ave, Hollywood, CA 90028 from 9AM - 6PM. Those auditioning should be prepared to sing 16 bars of any song (please bring sheet music) and prepare a one minute monologue or just tell a funny story! Personality is as important as well as talent! For an audition appointment please email Patrick at ElectricYouth08 @ aol.com. For more information please visit http://www.campelectricyouth.com.
"It seems like yesterday that 'Foolish Beat' was at the top of the charts worldwide," states Deborah Gibson. "What is more amazing is that over these past twenty years I have never gone a month without performing in something. This is what truly strikes me as significant. I owe so much to all of the fans that have stuck with me year after year."
Celebrating her twentieth year reigning supreme as the youngest person to write, produce and perform a number one hit song, Deborah Gibson continues to dazzle with entertainment magic. Showcasing her incredible career, Gibson will be performing her "Pop Goes Broadway" concert during a three week engagement at Harrah's Resort in Atlantic City, NJ from May 4-24. Gibson bridges the gap between Pop Music and Broadway singing some of her biggest hits and reprising her starring roles on Broadway with a slew of surprises in store. This is sure to be a momentous concert event that fans won't forget. Tickets are on sale and available at Ticketmaster.com!
About Deborah Gibson:
Deborah Gibson was born and raised in Brooklyn, New York. The celebrated Deborah Gibson started her personal love affair with music at the ripe old age of two and a half. "I'd put my ear to the speaker in my bedroom and run back to the piano and play -- left and right hands." Known the world over as "the Original Pop Princess", Deborah has come a long way from her early days of classical music training. Bursting onto the pop music scene at age 16, Deborah's run-away hit Foolish Beat made her the youngest person to ever write, produce and perform a number one hit single which is a record she holds in the Guinness Book of World Records to this day. Refusing to simply ride out the wave of her initial success, Deborah has since invested more than 20 years into the music industry. Releasing a string of well-received albums -- Out of the Blue - 1987, Electric Youth - 1989, Anything is Possible - 1990, Body Mind Soul - 1993, Think With Your Heart - 1995, Deborah - 1996, M.Y.O.B - 2001, Colored Lights - 2003 as well as a greatest hits collection, Deborah has successfully worked the music industry from all angles. in 1988 Deborah co-hosted Nickelodeon's first ever "Kids' Choice Awards" with Tony Danza. Deborah is not only a great singer, but is a producer and writer as well. With 16 million albums sold worldwide, successful performances in New York-based theater productions of Les Miserables, Grease and Cabaret, and starring in the West End Production of Grease as Sandy, Deborah knows what it takes to be a successful entertainer.
Awards and Achievements
Winner of ASCAP Songwriter of the Year - 1989
Nominated for Favorite Female Music Performer - People's Choice Awards - 1990
Rock Producer of the Year - American Songwriter Awards - 1990
Nominated for Best Pop Female Vocalist - American Music Awards - 1990
Artist of the Year - New York Music Awards - 1990
Song of the Year - Lost In Your Eyes - New York Music Awards - 1990
Best Pop Female Vocalist - New York Music Awards - 1990
Debut Album of the Year - Out of the Blue - New York Music Awards - 1989
Debut Artist of the Year - New York Music Awards - 1989
For more information please visit http://www.deborah-gibson.com.
About Total Pop Star:
Total Pop Star, launched by IFA DOT COM, LLC is the world's first and biggest on-line singing competition! No long lines, no missed opportunities and best of all, no Simon! Mashing up the appeal of the internet with the ever-hot music industry, Total Pop Star seeks to uncover the next singing sensation from amidst the masses and plant launch them into superstardom! The Total Pop StarCelebrity Judges and Hosts are the highly recognizable faces of this multi-platform venture providing our on-line audience insight into all things Total Pop Star. Please visit http://www.totalpopstar.com.
For media inquiries and booking please contact:
Jim Strzalkowski
Xtra Public Relations
(818) 761-9582 x236
###