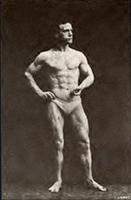 The Father of Modern Bodybuilding
Chicago, IL (PRWEB) January 18, 2008
Before Ronnie Coleman, before Lee Haney, before Arnold, and even before Charles Atlas, there was a breed of ironmen who systematically perfected their bodies through methods that for the time, meant no less than a fitness revolution -- methods that were unknown during the era, but that have become the foundation for modern fitness training and home gym exercise.
But these now-familiar methods were not the only ones they used. There were also others- unusual methods which have long since slipped into obscurity. Methods which the strong men considered muscle and strength building secrets.
Strength and Muscle Building Secrets?
Possibly. With nothing like the health club and home gym equipment that we know today, without modern sports nutrition, and without any artificial boost from performance enhancing drugs, these strongmen built bodies that few men have ever been capable of achieving. And what were their secrets? Among them, a restricted lifting program, complementary muscle movements and an emphasis on breathing techniques that made it possible to strengthen the body and build muscle with minimal effort.
The Father of Modern Bodybuilding
Would these methods be considered scientific today? Probably not. But these strongmen offer proof of their success in letters and photographs. The most famous of them, Eugen Sandow, a bodybuilder of the early 1900's, was a mentor to Charles Atlas. Considered by many to be "The Father of Modern Bodybuilding," Sandow was also a shrewd businessman and showman - and grew rich building the first health clubs and inventing the first commercial fitness equipment. Another was Edwin Checkley who advocated a completely "natural" approach to bodybuilding that required no weight equipment or other special apparatus.
Now Digitized
As part of a project to provide resources to fitness enthusiasts and their customers who are building home gyms, HomeGymEssentials.com has assembled a collection of digitized classic fitness and weight training books-some that they've produced themselves, others that are found in existing archives, including the Library of Congress repository and Google Books. Among them are Eugen Sandow's "Sandow on Physical Training," Sandow's "Strength and How To Obtain It," and Edwin Checkley's "A Natural Method of Physical Training," The original editions are considered collectible and have sold for up to hundred of dollars.
Fitness trainers, health educators, bodybuilders and home gym enthusiasts are encouraged to share in this exciting special collection. The e-books are available as free downloads through the company's website through February 2008.
About The Company: HomeGymEssentials.com is an expert-informed web resource for designing and equipping the best possible home gym. Through professional reviews of home gym equipment, insights into popular products such as elliptical fitness equipment, and helpful tips and guides, Homegymessentials.com brings fitness consumers a set of helpful resources for getting the most satisfaction and value from their home gyms.
###