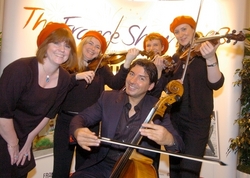 This has been an exceptional start to the France Show 2008
London, UK (PRWEB) January 20, 2008
The London rain didn't stop thousands of visitors flocking to the opening day of the three
day France Show 2008 at Olympia on Friday.
Built around the themes of food and wine, travel, property and language, The France Show 2008 is the largest celebration of France and French living to be held in the UK and hopes to entertain over 35,000 visitors from across the UK.
The Show was opened in spectacular fashion when a VIP Breakfast hosted by show organisers Archant Life was invaded by a troupe of Can Can dancers who took the stage for an action-packed five minute stint.
This was followed by introductions by guest speakers from ABTOF, SeaFrance and Maison de la France with celebrity chef Jean-Christophe Novelli finishing off proceedings with a speech in his native tongue.
Novelli has been promoted as the face of the 2008 Show and indeed will be hosting a number of the live cookery demonstrations on offer to visitors each day.
While cookery, food and wine are high on the menu, with wine and champagne tasting in abundance, the Show also plays host to the UK's largest exhibition of French property, with many thousands of properties for sale on display from all the leading agents from both sides of the Channel. Seminars on travel, language, property and winetasting add education to the whole experience.
"This has been an exceptional start to the France Show 2008", commented Archant Life France MD Miller Hogg. "Hopefully people will continue to come in their droves throughout the weekend for a great day out whether they are a true francophile, French property hunter or someone who simply likes the idea of finding out more about this stunning country and its colourful culture. "
The France Show is open 10am - 6pm Saturday, 10am-5pm Sunday and tickets are £8 on the door, with accompanied under 16s free.
For press enquiries at the Show email pressroom @ thefranceshow.com
For other details and press releases go to http://www.thefranceshow.com
# # #