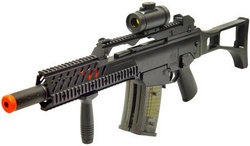 But at least it wasn't cold. We tried to do everything authentically. We even caught fish and had fish-head soup for dinner
Jacksonville, FL (PRWEB) January 21, 2008
History is repeating itself. FlyntAirsoft.com (http://www.flyntairsoft.com)] reports that replica Airsoft guns are allowing war enthusiasts to recreate their favorite battles and simulate the adventure of real life combat - safely.
In the article, "Simulate Battle Draws 'New Faces' to War Game", in Tacoma's TheNewsTribune.com, Bill Hutchens finds that Airsoft enthusiast and BattleSim store owner Joseph Daniel recently simulated a World War II battle using Airsoft guns. Although the guns were only replicas, Daniel and fellow participants attempted to make the event as realistic as possible.
"We lived in the woods for four days in horrible weather," Daniel said. "But at least it wasn't cold. We tried to do everything authentically. We even caught fish and had fish-head soup for dinner," says Daniel in TheNewsTribune.com article.
Airsoft has gained immense popularity worldwide in recent years. The game was developed in Japan in the 1970s, and its popularity has only grown. Airsoft guns resemble real firearms, but include a mandatory orange tip to show that they are fake. War reenactors are able to celebrate their favorite battles, safely.
Jenny Thompson, an alumna of San Francisco State University, decided to do some research for her Ph.D in American Studies. Instead of searching through old, faded documents and battle records, she enlisted herself in the famous Battle of the Bulge, as a civil war reenactor.
After participating in the war reenactment and authoring the book "War Games: Inside the World of Twentieth-Century Reenactors", Thompson reflects on the fascination with war and mock-combat games like Airsoft in contemporary culture.
"As a culture we are not only shaped but also fascinated by war - or, more broadly - violence. …we promote, package, and profit from war," says Thompson.
Airsoft guns provide a safe alternative to real firearms and a forum for simulating famous battles, as Thompson experienced. Unlike real guns, they utilize small Airsoft BBs as ammunition, although safety gear should always be worn. Airsoft gives everyone the chance to play a role in the battles that shaped America's history.
Learn more about the exciting sport of Airsoft and find Airsoft Guns at FlyntAirsoft.com.
About FlyntAirsoft.com:
FlyntAirsoft.com is a leading supplier of low price Airsoft Rifles and Airsoft Gear. They pride themselves on being on the cutting edge of all things Airsoft, and offer tons of Airsoft informational resources. Learn more about the exciting game of Airsoft at FlyntAirsoft.com.
# # #