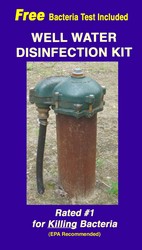 This is unfortunate because the average private well owner just assumes that their well is providing them with potable water. They do not realize the importance of diligent monitoring and disinfecting of their water supply
Leominster, MA (PRWEB) January 22, 2008
Well water is groundwater and groundwater is never 100% pure. Even though it is naturally cleansed as it moves through the earth, there are many naturally occurring microorganisms in groundwater. Most microbes are harmless. Some, however, such as bacteria, viruses and protozoan are not. Routine testing and disinfecting of private wells are critical responsibilities of private well owners in order to maintain a safe, clean water supply.
A variety of federal and state regulations ensure the microbial safety of public drinking water. Private well construction codes require that all newly constructed private wells be tested for and be proven free of coliform bacteria. After these initial tests, there are no requirements for additional testing or disinfecting of private wells. "This is unfortunate because the average private well owner just assumes that their well is providing them with potable water. They do not realize the importance of diligent monitoring and disinfecting of their water supply", states Eric Koslowski, who is the Lab Director of a Central Massachusetts based Environmental Testing and Research Laboratory (http://www.etrlabs.com)].
Mr. Koslowski and his team of Researchers and Scientists have spent many years studying and collecting data on private drinking water. Their observations lead them to discover that there was no specific tool for sanitizing private wells. Consumers that experienced well water contamination were left to figure out how to go about disinfecting their water supply. ETR Labs discovered that people have been using the wrong tool for disinfecting their wells for many, many years. Standard protocol for well disinfection up until now has been to use ordinary laundry bleach. This process is extremely unscientific, inexact, complicated and inconvenient at best. Laundry bleach was not designed to disinfect a well. Those that use this mechanism find it difficult to determine the appropriate amount to use and find that once it has been added to the well it renders the water unsafe to use or drink for extended periods of time.
Environmental Testing and Research Laboratories developed and patented a new, revolutionary, well water defense mechanism. This EPA recommended tool is simple to use, effective and best of all, you can continue to use your water while it sanitizes. ETR Labs has taken a complex process and made it simple. The disinfection kit includes a free follow up test to monitor the effectiveness of the process. "We know that these things can be difficult to understand but we want our customers to know that when they purchase this kit from us, it includes our knowledge and expertise Our doors are always open and we are here to answer questions and help them find the right solutions".
How is our process different? ETR Labs has conducted and documented hundreds of well inspections for clients with wells that had microbial contamination. Our studies found that because microbes are aerobic, they thrive on the surface of wells. This top part of the well is where we find most of the biomasses of microorganisms. We also found that when laundry bleach is poured into the well, the solution falls to the bottom of the well and mixes with the water making it the same concentration throughout the well. It is because of this that using laundry bleach makes the well water unsafe to use or drink until it dissipates. The sinking and/or mixing of the solution also makes this process less effective at eliminating the biomasses of microorganisms at the top of the well because the bleach has now fallen to the bottom.
"When we developed this process, we looked at the vulnerability of the microorganisms in their environment and developed a solution that was strong enough to kill the microorganism but still be tolerated by humans. Our research over the years has lead us to discover that when we look at a well water system is contaminated with microorganisms we have found that they thrive at the surface of the well. When we pour standard laundry bleach into a well it falls to the bottom and does not exude enough of its strength directly at the microorganisms. We have come up with a product that floats at the surface of the well. The agents buoyancy, allows the highest concentration of the agent to remain at the surface where the microorganisms reside. This method has been scientifically proven to be more efficient because it is designed to target the problem. Once it is placed in the water, it remains in constant contact with the problem area which makes it more effective in the elimination process," said Mr. Koslowski.
Every well will have some bacteria in it because microorganisms naturally move through the earth where ground water comes from. Bacteria can also enter through the aquifer or the surface. Small amounts may not be noticeable until they become a nuisance and grow to cause contamination issues. It is because of this that private well owners should disinfect their wells every year in order to maintain a safe and clean water supply.
# # #