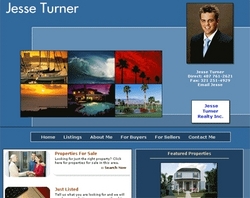 My business is extremely friendly because I truly enjoy helping people find their perfect home. I take each client's needs into careful consideration when showing them homes
Orlando, FL (PRWEB) January 22, 2008 -
In today's current housing market, buyers are in the unique position to capitalize on the slowdown. With this slowdown of the U.S. housing market, this is the best time to buy property. Orlando area real estate agent, Jesse Turner, announces a new development strategy that will help homebuyers capitalize on the current market.
By employing the World Wide Web, Jesse Turner Realty Inc. is able to offer potential home buyers another level of their housing search. Buyers are able to search for information over the Internet, which includes homes for sale in Orlando and surrounding areas. With the Internet outpacing classified advertising for real estate properties, Jesse Turner Realty Inc. has developed a website that is convenient and easy-to-use. When the potential home buyer feels ready to move forward with the process, Jesse Turner Realty Inc. takes the extra personal touch to get started.
Owner of Jesse Turner Realty Inc., Jesse Turner, explains, "Personally as the broker, I work with all of my clients directly. I take all the necessary time to show potential buyers areas that meet their needs. Whether they are looking for luxury condominiums or homes for sale in Orlando, I am able to find them exactly what they are looking for in the area of their choice."
Providing only quality housing options, Jesse Turner Realty Inc. assists clients with the expertise knowledge and care they deserve. With service that goes above and beyond traditional real estate duties, Jesse Turner Realty Inc. understands that purchasing a home is an important decision that warrants close assistance from serious professionals. Orlando area real estate agent, Jesse Turner, is dedicated to providing potential home buyers these services and more.
"My business is extremely friendly because I truly enjoy helping people find their perfect home. I take each client's needs into careful consideration when showing them homes," explains Turner. "Additionally, I take the entire home buying process as seriously as the buyer. While some may say my process is more time consuming, I feel the added attention is worth it for the buyer."
To learn more about Orlando, Florida homes for sale or Jesse Turner Realty Inc., please visit JesseTurnerRealty.com.
About Jesse Turner Realty Inc.
With a background in property management and real estate, Jesse Turner developed his own business, Jesse Turner Realty Inc. Turner works closely with the potential home buyers to ensure they are able to find a home or vacation property that meets their exact needs. By speaking to clients directly, Turner is able to determine the client's real estate goals and help the client achieve these goals. Additionally, Jesse Turner Realty Inc.'s website provides a comprehensive listing of available properties.
###