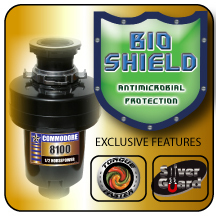 Anaheim, CA (PRWEB) January 19, 2008
Joneca Corporation, based in Anaheim California will be introducing several new, and innovative products at several industry trade shows in 2008.
International Builders Show
Feb. 13-16, 2008
Booth #S11084
Orange County Convention Center
Orlando, Florida
Kitchen And Bath Industry Show
April 11-13, 2008
Booth # L12100
McCormick Place
Chicago, Illinois
National Hardware Show
May 6-8, 2008
Booth # 35917
Las Vegas Convention Center and Sands Expo & Convention Center Las Vegas, NV
New Products - Along with presenting our quality line of Bio-Shield Disposers http://www.joneca.com/commodore-disposer-features.html (Commodore and Mr. Scrappy brands), we will be featuring the addition of a few exciting new products to the Joneca family:
Precision Ro 6-Stage Ultra Compact Reverse Osmosis System: http://www.joneca.com/precision_ro.html The single vessel ultra-compact P-RO offers a six stage water treatment system and the newest in technology and design. The single P-RO cartridge has to be changed only once a year. More water to tank, less water to the drain; compact and lightweight; pre-plumbed; simple and easy cartridge replacement; fast flow. Offers delicious odor free water, better tasting coffee, tea and soups, and keeps cysts, viruses, and bacteria out of your water.
Commodore Bio Shield Disposers: http://www.joneca.com/commodore-food-waste-disposers.html Designed with state of the art technology, Commodore gives you an affordable alternative to existing, old line, high priced disposers. The very latest manufacturing methods and materials are utilized with strict quality control procedures implemented at every step of production. This effort ensures high quality at a better price.

Torque Master: balanced turntable and armature providing for smooth and quiet operation.
Bio Shield Anti-Microbial: odor protection against bacteria growth.
Speed Master Mounting System has only six components and can be installed in a few minutes without the need for tools.
Batch feed adapter: This innovative switching device provides another on/off alternative while allowing any Bio Shield Series Disposer to be converted into a batch feed disposer.
Silver guard magnet: http://www.joneca.com/silver_guard.html The Mr. Scrappy Silver Guard is a strong magnet which attracts kitchen utensils and other miscellaneous metal objects from falling into the disposer. Installation complete within seconds; prevents utensil damage; prevents costly repair bills; works great with strainer baskets and stoppers.
Mr. Scrappy Duel Outlet Air Switch: http://www.joneca.com/air_switch.html Our newest air switch provides an extra outlet for the hot water dispenser or compactor. Included are two types of buttons with three different finishes. Designer finishes are also available on a special order basis.
Custom Color Sink Flanges: http://www.joneca.com/color_sink_flanges.html Per popular request, we will be introducing our custom color sink flanges; sure to fit all Bio Shield Disposer models. We can now offer high-quality custom sink flanges, stoppers and basket strainers in five designer colors.

White
Biscuit
Oil Rubbed Bronze
Black
Stainless (Brushed Nickel)
Please let us know if you are interested in further program information for any of the above products. More information and sample units on all the above products will be on display at our booth. If you can't attend one of the shows, contact Joneca Corporation directly.
###