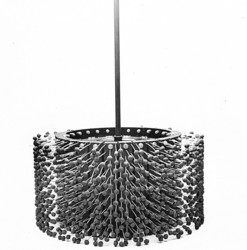 We also work on the generators, which are pretty big too, with average bores of 20 inches or so.
Torrance, CA (PRWEB) January 22, 2008
Servicing the big bore diesel engines on hard-working container ships requires fast response as well as the right abrasive technology. For American Diesel, one of those tools is the portable but mighty ball-style hone. When American Diesel gets a call for service, the company prides itself in providing a rapid response. Oftentimes within minutes American Diesel mechanics are on the move from the firm's New Orleans shop or from any number of locations in the field.
The engines that American Diesel services include most of the international big bore models, including those from Sulzer, Yanmar, Daihatsu, Man B&W and MAK.
"The main engines are big bore diesels with cylinders ranging up to 40-inch diameter," says Guevera. "We also work on the generators, which are pretty big too, with average bores of 20 inches or so."
When doing overhauls or repairs that involve cylinders, it is predictable that cylinder liners will have to be deglazed and crosshatched. For those jobs Guevera uses a compact, portable and highly efficient abrasive tool, the ball hone.
Widely known by the brand name Flex-Hone, the ball-style hone is a highly specialized abrasive technology tool that is instantly recognizable by its unique appearance. Featuring small, abrasive globules that are permanently mounted to flexible filaments, the product is a low-cost tool for deglazing, de-burring, edge blending and crosshatching.
Another important capability of a flexible hone is its plateau finishing capabilities, a process by which cylinder walls are subjected to a bore finishing procedure that increases the life of both the cylinders and the piston rings. The purpose of plateauing is to remove loose, cut, torn and folded material within the cylinder, create valleys and remove peaks that would otherwise damage rings or seals. The result is that more lubricant is retained, improving engine startup and performance.
Contact Info:
Heather Fowlie
Brush Research Mfg. Co., Inc.,
4642 East Floral Drive, Los Angeles, CA 90022;
Phone: (323) 261-2193;
Fax: (323) 268-6587;
email: info @ brushresearch.com
web site: http://www.brushresearch.com
###