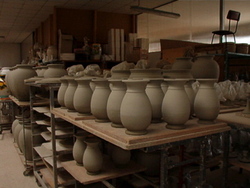 You buy from a family owned business, you buy from a real Florentine, but you also buy in the U.S. with all the guarantees offered by one of the leaders in the sector.
Alpine, California (PRWEB) January 22, 2008
Although a vacation in Italy is always desirable, purchasing in Deruta has become more difficult for US customers because of the strong depreciation of the US dollar paired with the usual perils of dealing with small businesses in a foreign country and the onus of shipping and paying custom duties. Therefore it became more and more convenient to purchase from US based importers, especially now that the Internet makes it so easy ... but how do you make sure that you are getting the real thing?
Taste of Florence in November 2007 started offering a certificate of authenticity with all orders: "There are so many sellers out there and the world keeps getting smaller and smaller," said Paolo Landini, native of Florence (Italy), owner and founder of Taste of Florence. "We want to keep offering competitive pricing and at the same time protect ourselves, our customers and our workshops. We felt that it was important to provide a guarantee not only of the place of origin, but also that the items are created using the centuries old techniques of majolica making."
As with every niche product, it is sometimes difficult for the consumer to find unbiased sources of information. These myths and truths are meant to increase the consumer's knowledge and to put their minds at ease.
Deruta ceramics must have a number on the bottom. Myth. It is true that many Deruta workshops write a number on the bottom of the piece, often followed by a slash and another number, however the presence of the number doesn't make the piece authentic, neither makes it more unique. The first number represents the shape catalog number and the second number in most cases is just the size in centimeters. Many workshops do not write numbers and make pieces just as beautiful.
Original Deruta pieces must be hand made, not only hand decorated. Truth. All pieces should be made by hand, hand thrown or molded depending on the shape. It is fairly easy to see the hand thrown marks inside a vase, not so easy to tell if a plate was hand molded or mass-produced before decoration. One way to tell is to pile some plates on top of each other they will probably not stack perfectly, some will be thicker than others and some may have a slightly different shallowness or angle. Some collectors prize small imperfections as a way to make the item more unique.
Deruta ceramics must be signed. Truth. Workshops sign all pieces in the back with few exceptions (for example: knobs, wine stoppers, certain tiles). Some of them go as far as signing name, place and other information while some others may just sign "Deruta", but they all sign their pieces unless they occasionally forget on one of them! A stamp or a sticker on the bottom of the piece that substitutes the signature is definitely a red flag.
Deruta is a factory brand name. Myth. Deruta is the name of the town where more than 80 independently owned workshops produce majolica pieces, each with different styles and different appeal. A few years ago a retail chain went as far as calling one pattern "Deruta" although it was mass-produced somewhere else, some customers bought it thinking that they were purchasing items from Deruta. The local Chamber of Commerce is taking steps on protecting the Deruta name through trademark laws.
Deruta majolica must be in certain designs only. Myth. Although some designs are typical of Deruta and have been made for centuries in the same way, a piece is defined as majolica if made using certain clays, entirely by hand and using majolica glazes. The design has no bearing in the authenticity of the piece, what matters is the process used to create the piece.
Original Deruta should be old. Myth. Deruta antiques are not common and in some cases may be of poorer quality of the current production, which is made using old techniques, but is fired using modern kilns and decorated using glazes that respect the environment and the consumers' health. Anything created more than 30 years ago will certainly have lead in the glaze.
Another factor that buyers should look at is the price. While the business models in part dictate price differences, majolica pieces should not be too cheap. In other words, a boutique store in a prestigious location will have to cover higher overhead and will charge much more for the same exact piece than an Internet retailer with a slender business model, but differences between retailers with similar business models should be reasonable.
While some of the above may make perfect sense to the collector or the seasoned traveler, it may reason poorly with someone that has no knowledge of the product: "Sometimes you just have to think: Who am I buying from? If you cannot travel to Deruta or do not want to deal with all the uncertainties of buying in a foreign country, we offer the next best thing" says Mr. Landini "You buy from a family owned business, you buy from a real Florentine, but you also buy in the U.S. with all the guarantees offered by one of the leaders in the sector."
About Taste of Florence:
Taste of Florence was founded in 1996 by Paolo Landini and is a family owned business based in Alpine, California, that operates through the website http://www.tasteofflorence.com. Mr. Landini resided in Florence until the age of 32, established his network of artists and craftsmen from Florence and Deruta while still living in Italy and only imports products manufactured by them directly.
Contact:
Paolo Landini, Taste of Florence
(877) 788-0884
Fax (619) 659-1370 http://www.tasteofflorence.com
###