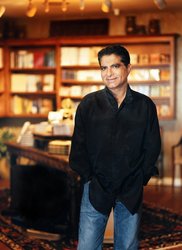 Aging isn't inevitable, and those who join us on our Alaskan cruise will learn how to transform the way they look, feel, and live their lives
Anchorage, Alaska (PRWEB) January 21, 2008
The Chopra Center is offering Grow Younger, Live Longer, a life-changing cruise through Alaska's ancient waterways, where Chopra Center co-founders Deepak Chopra and David Simon will premiere their powerful program for age reversal to an exclusive, intimate group of only 100 passengers.
This June 4–11 at Grow Younger, Live Longer, attendees will learn a unique consciousness-based approach to healing and revitalizing their body and mind that draws upon the timeless wisdom traditions of the East and the modern discoveries of quantum physics. Acclaimed mind-body physicians Deepak Chopra and David Simon will guide participants in the powerful ten-step renewal process that they presented in their best-selling book Grow Younger, Live Longer but have never before taught in a group setting.
"Aging isn't inevitable, and those who join us on our Alaskan cruise will learn how to transform the way they look, feel, and live their lives," said Dr. Chopra. "Whether you're communing with a polar bear or bonding with a glacier, these are simple reminders of your timeless, ageless self."
This eight-day Alaskan voyage will take place aboard the all-suites Seven Seas Mariner, rated the #1 luxury cruise liner in the world. Participants will cruise from Anchorage to Vancouver, experiencing the pristine beauty of Alaska's Inside Passage as they learn the unique tools and principles of age reversal including the keys to sexual vitality, optimal nutrition, restful sleep, stress management, a youthful mind, and fulfilling relationships.
"Grow Younger, Live Longer is an ecstatic journey into the miracle of age reversal by two of the finest physicians and thinkers of our time, said renowned psychologist Dr. Wayne Dyer. "It provides you with the tools to dramatically reverse your biological age. Willingly suspend your disbelief and observe yourself growing younger in every way."
For more information, please call 888.736.6895 or visit http://www.chopra.com/growyounger
The Chopra Center for Wellbeing was founded by Deepak Chopra, M.D. and David Simon, M.D. in 1996. The philosophy of the Center is based upon the principles and practices of holistic and alternative medicine from around the world. The Chopra Center is the global source for yoga, meditation, and Ayurveda.
Dr. Deepak Chopra is chairman and co-founder of the Chopra Center for Wellbeing and a best-selling author who has written more than 50 books. He is acknowledged as one of the world's greatest leaders in the field of mind-body medicine. Through the Chopra Center, Dr. Chopra is revolutionizing common wisdom about the crucial connection between body, mind, spirit and healing. His mission of "bridging the technological miracles of the West with the wisdom of the East" remains his thrust as he and his colleagues conduct public seminars and workshops and provide training for health care professionals around the world.
Dr. David Simon is the CEO, medical director, and co-founder of the Chopra Center for Wellbeing as well as a board certified neurologist and a pioneer in the fusion of Western medicine and the healing arts of the East. Dr. Simon is the recipient of a National Institutes of Health grant to study mind-body approaches to health, and has created initiatives to bring holistic health-care programs to medical institutions, community health centers, and health resorts. In addition, he is a best-selling author whose recent books include The Ten Commitments: Translating Good Intentions into Good Choices and Vital Energy: The 7 Keys to Invigorate Body, Mind, and Soul. His latest book is Freedom from Addiction, co-authored with Dr. Deepak Chopra.
Media Contact:
David Greenspan
(760) 494-1610
http://www.chopra.com/growyounger
###