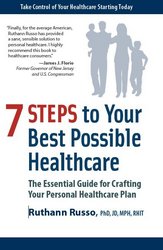 Bethlehem, PA (PRWEB) January 21, 2008
Happy Times in Healthcare in association with 7 Steps to Your Best Possible Healthcare, announced today the 6 Days at Disney contest to celebrate the launch of its newly re-designed website. Contestants can register online at happytimesinhealthcare.com to be eligible for a Grand Prize drawing of a 6-day trip to Walt Disney World for 4 including airfare, lodging and park passes. Other prizes include a 1-year membership to Gold's Gym, a Canon digital camera, and gift certificates to Amazon.com. Between now and May 1st daily, weekly, and monthly prizes will also be awarded including, t-shirts, copies of 7 Steps to Your Best Possible Healthcare book and day spa gift certificates.
Additionally each entrant will automatically get a free chapter of Dr Russo's new book, 7 Steps to Your Best Possible Healthcare and a subscription to Here's to Your Best Possible Healthcare newsletter. The book and newsletter address critical issues facing to day's healthcare consumer such as:
•How to chose the best family doctor
•How to shop for healthcare
•Pitfalls to avoid when talking to doctors
For more information or to register for the 6 Days at Disney contest, please visit http://www.HappyTimesInHealthcare.com
Contact Information:
Phone 610-861-2717
Web: happytimesinhealthcare.com or 7stepshealth.com
About Happy Times In Healthcare
Happy Times in Healthcare helps you make sure your healthcare experiences are the best they can be. We educate, we inform, we help you become a happy and confident healthcare consumer.
About Ruthann Russo:
Ruthann Russo, PhD, JD, MPH, RHIT, is a healthcare expert with more than 20 years of experience working in and advising healthcare organizations and the author of the consumer guidebook 7 Steps to Your Best Possible Healthcare.
###