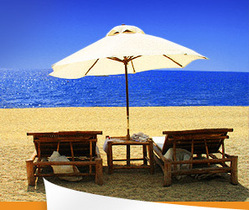 Playa De Oro is one of the cleanest and best properties for sale in Mexico
San Felipe, Baja (PRWEB) January 21, 2008
The 2007 "Best of" survey was held in San Felipe, requesting readers to vote for their "favorites" out of a list of 60 different businesses categories in this Baja California Mexico Community. Playa de Oro captured five of the top honors, taking the #1 "Best Development" title.
In addition, located in Playa de Oro's Plaza is the #1 voted "Happy Hour" establishment, "Jimmy's Bar & Grill" along with their #1 Band "Agave Blues", plus the # 1 "Sundance" Market and Deli, and #1 "Sand Rail Pizza".
This #1 gated community along with its sister community, Playa San Rafael, is located on the Sea of Cortez and only a two-hour drive from the U.S. border. Offering ocean-front living and spectacular views, 24/7 security, underground electricity, city water, private beach access, hilltop dining with #1 band entertainment, resort pools and spa, and commercial areas, these unique resort communities are the safest and finest living in the San Felipe area. Plus, having issued 100s of individual lot titles to American citizens thru Fideicomisos, they are a proven quantity providing true irrevocable ownership to their buyers.
Developed by Americans, these affordable residential resort communities are the best and safest purchase in the Baja. To quote First American Title Insurance Co, "Playa De Oro is one of the cleanest and best properties for sale in Mexico". American buyers would never purchase property in the U.S. without title insurance and prudent buyers demand the same in Mexico. Therefore, the developer provides individual title insurance policies issued through First American Title Ins. Co. on every property purchased. Combined with all the other features and amenities, this safety net is certainly one of the reasons why Playa de Oro was voted #1 in San Felipe real estate.
###