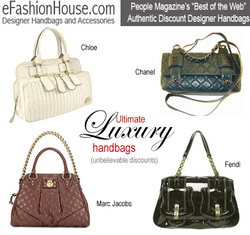 Our Internet business motto is 'Shopping without Boundaries.' We are in business to cater to the world
Sky Valley, CA (PRWEB) January 21, 2008
eFashionHouse announced today there are no limits when it comes to online shoppers. eFashionHouse does not limit the amount of items one customer can purchase. Unlike the department stores who announced on January 10, 2008, a worldwide purchase control of designer handbags, eFashionHouse proclaims the opposite.
"Our Internet business motto is 'Shopping without Boundaries.' We are in business to cater to the world," said Anna Miller, eFashionHouse.com's owner. Online shoppers can purchase as many items as they want when placing an online order at eFashionHouse.com.
eFashionHouse was named Best of the Web by People StyleWatch and recognized by About.com as the top online retailer of Chanel.
eFashionHouse ships worldwide, offers deep-discount off-retail prices, charges no sales tax and provides free USA FedEx delivery for orders over $200. Selling online for over twelve years, eFashionHouse has high end brands like Chanel, Prada, YSL, Gucci, Fendi, Bottega Veneta, Tods, Coach, Tano, Marc Jacobs, Ferragamo, Dior and more.
Unlike many of the other online stores selling the same products, eFashionHouse allows online shoppers to purchase as many designer fashion accessories as they want. There's no limit to the items online shoppers can purchase and the money they can save. eFashionHouse is known for deep discounts on their entire product line.
About eFashionHouse.com
Anna Miller is the President of i-GlobalMall.com, Inc. She operates the website http://www.efashionhouse.com/ and sells high-end authentic designer handbags and accessories at off-retail prices. eFashionHouse.com was named BEST OF THE WEB by People StyleWatch Magazine for Discount Designer Handbags and Purses. eFashionHouse.com should not be confused with any other website selling a similar product or using a similar name. eFashionHouse.com is the home of five fashion ecommerce stores: BrandsBoutique, LuxuryVintage, DesignersLA, ItalysOutlet and ValueBags. Anna is considered an Internet Pioneer and has been reselling Designer Merchandise online since the early '90s.
# # #