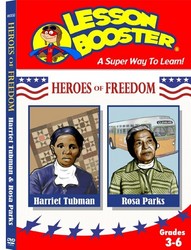 Bristol, CT (PRWEB) January 22, 2008
The life and times of Harriet Tubman and Rosa Parks, two of America's most enduring heroes of freedom, come alive for children in Heroes of Freedom, a new DVD series about people of courage who changed America. The initial title in the series - "The Stories of Harriet Tubman & Rosa Parks," arrives in stores February 5, 2008 just in time for Black History Month.
Produced by Mazzarella Media, "The Stories of Harriet Tubman & Rosa Parks," presents stirring dramatizations, historically accurate reenactments, photographs and colorful maps, which help tell the stories of these two women who worked their entire lives for fairness and freedom.
In "The Stories of Harriet Tubman & Rosa Parks," young viewers will travel back to 1830 and the cotton fields of a southern plantation. They will experience what life was like for an enslaved person and how Tubman, a slave herself, came to help over 300 slaves escape to freedom as a "conductor" on the infamous "Underground Railroad." Then young historians are transported to 1955 and a bus stop in Montgomery, Alabama where they experience the unfairness of segregation and the courage of Rosa Parks, whose actions of refusing to give up her seat on a bus was a catalyst for the Montgomery Bus Boycott and subsequent Civil Rights Movement.
The DVD features an interactive menu allowing the viewer to choose various chapters in the program:

Chapter 1. Harriet's Life as an Enslaved Person
Chapter 2. Harriet's Travels on the Underground Railroad
Chapter 3. Slavery Ends in America
Chapter 4. Harriet's Escape to Freedom
Chapter 5. Life in Rosa Park's America
Chapter 6. The Civil Rights Movement
Chapter 7. Rosa's Act of Defiance
Recommended for ages 8-12 and 18 minutes long, Heroes of Freedom programs are perfect for classroom and home viewing. Each title in the series correlates to national and state curriculum standards, uses age-appropriate concepts, and introduces key vocabulary words necessary to understanding the issues surrounding the programs' content.
Each DVD in the series will retail for $14.95, which includes non-commercial public performance rights for the educational market. A program about Martin Luther King Jr. is planned for a fall release with more titles following in 2009. For more information or to order "The Stories of Harriet Tubman & Rosa Parks" DVD, call 1-800-583-1988.
About Mazzarella Media
Mazzarella Media is an Emmy award-winning company that develops products to foster the fun and excitement of learning. Their products are designed to get kids thinking about themselves and the world around them and to enhance intellectual, social, emotional and physical growth by stimulating the imagination, nurturing creativity and developing a love for learning. The company has released a multitude of programs including the multi-awarding-winning children's Monkeydoos fitness DVD series, Potty Power!, which teaches children potty training in an engaging musical format; and several titles in the Thinkeroo line of science programs including Spacetrekkers, Rock Finders and Bio Trackers. Their educational division recently released Exploring Our Past: Native Peoples of North America, an engrossing five-part DVD series narrated by Grammy® award-winning singer-songwriter Joanne Shenandoah, which introduces young viewers to the many Native American tribes that have lived in the vastly diverse regions of the country.
###