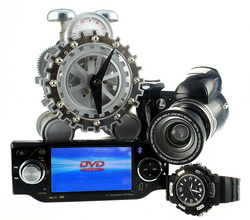 Consumers can expect bigger screens for a cheaper price
Shenzhen, China (PRWEB) January 22, 2008
Forget about the iPod, the iPhone and any other MP4 or MP4-capable phone that may have dominated people's imagination in 2007, the big news items and best sellers of 2008 will be car DVD players.
Automotive DVD players used to be expensive and only play DVDs. However, recent developments within the electronic goods manufacturing industry have made devices more affordable and functional than ever.
Buyers can now expect the average car DVD player to show GPS, files from their MP3 and USB, as well as digital television; according to Rose Li, PR Manager for Chinavasion.
"There is no comparison between the car DVD players of today and the automotive DVD players of five years ago... models today are so functional they are almost vital for every day commuting," said Rose Li.
The drop in prices for LCD screens has also had an effect on car stereos and Made in China Car DVD Players, with the increasing availability of touch screen technology also increasing the functionality and reducing the price of available systems.
"Consumers can expect bigger screens for a cheaper price," said Rose.
People in the US spend approximately 100 hours a year traveling too and from work and people in the UK spend a staggering 132 hours going between their homes and their places of business so it is unsurprising then that car electronics manufacturers have put so much effort into producing a whole range of entertainment systems for the vehicle, from cheap car DVD players to top-of the line DVD player car audio in dash units.
Interest has been so high for the items that car audio giants Blaupunkt and Alpine had large marquees on the DVD player car audio in dash units at New Delhi's Auto Expo this year, with both sites receiving good levels of attendance.
People importing from China and eBay drop shippers have already shown a high degree of interest in car DVD systems, according to Rose Li with some of the more up-market models being constant strong sellers on http://www.chinavasion.com, one of China's top sources for car electronics.
"You can just tell they are going to be the item to be selling in 2008," said Rose.
Chinavasion.com is the leading online drop ship wholesaler for automotive audio visual equipment and consumer electronics. Accredited by PayPal, Verified Site, and ScanAlert, and listed in all the leading B2B directories, Chinavasion is the market leading China wholesale supplier for EBay dropship sellers and electronics worldwide. For more details visit: http://www.chinavasion.com/
###