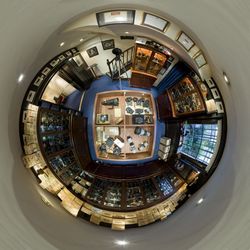 London (PRWEB) January 22, 2008
Grays of Westminster, the acclaimed Nikon-only shop, is pleased to announce the availability of its first online virtual tour of its premises.
The virtual tour can be viewed at the following link:
http://www.graysofwestminster.co.uk/tour/
It was created for Grays of Westminster by Michael Eleftheriades
Michael Eleftheriades is an architect and photographer who fuses his particular passion for architecture, virtual reality, computer graphics and photography in the creation of large-scale panoramic imagery. Michael has been photographing virtual reality scenes using Nikon film cameras since 1986, and subsequently moved into digital acquisition with the launch of Nikon's Coolpix range in 1998.
He has exhibited his photographs at three exhibitions in London and lectured on panoramic creation to wide acclaim in the U.K., Europe and the United States.
When not photographing, Michael directs the efforts of Media Synthesis, a media development and consultancy company established in 1993, and is responsible for virtual reality tours and interactive exhibits at many of the U.K.'s leading museums, including the Maritime and Natural History Museums.
Technical Details
It was decided at the start of the project that the best way to approach the virtual tour from the user perspective would be to include plans of the spaces. This was not only to display the relationship of the spaces to each other, but also to reinforce the idea that collectively, they are all essential parts of the whole enterprise.
The rooms were thus measured in detail, and two and three dimensional isometric 'cut-away' projections were constructed in Nemetschek's VectorWorks package. These were exported to Adobe Illustrator and Photoshop CS3 where the interactive logic was created.
Photographing any interior with mixed lighting and a wide contrast between interior and exterior posed huge challenges, and these were overcome by shooting some scenes using High Dynamic Range techniques.
For the photography of all interior panoramas, Nikon's flagship D3 camera was used, because of its superior low noise characteristics, indeed at the chosen ISO speed of 400 using the Nikkor AF 16mm Fisheye lens, there was no discernible noise in any of the images. A Nikon D2x with the Nikkor AF 10.5mm Fisheye was used for all the exterior shots.
For accuracy and repeatability, both cameras were mounted on 360Precision Adjuste panoramic heads. This latest design is lighter than the previous Absolute model, but is still robust enough to handle larger bodies, as well as offering adjustability, essential in calibrating for the new Nikon D3.
The images were post-processed in Adobe Camera RAW for a slightly warmer tone and additional image manipulation was done in Adobe Photoshop CS3. The images were stitched in Realviz Stitcher Unlimited v5.6, our preferred stitching tool mainly due to its immediate visual feedback and for its HDR capabilities. Finally, the images were exported as optimised cubic QuickTime movies and can be viewed on the virtual tour either via the Adobe Flash or Apple QuickTime plug-ins, for the widest possible audience.
For more information, please contact:
Grays of Westminster / Gray Levett
Tel: +44 (0)20 7828 4925, Email: info(at)graysofwestminster.com
###