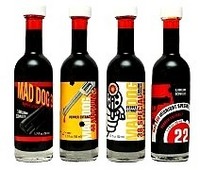 Boston, MA (PRWEB) January 22, 2008
David Ashley, founder of the Ashley Food Company and long time Hot Sauce creator, has made an exclusive agreement with FireHotSauces.com to Sign 25 each of his newly created hot sauce extracts. The sauces are aptly named 22 Midnight Special, 38 Special, 44 Magnum and 357 Mad Dog Pepper Extracts for the capsicum firepower they are packing. The pepper extracts range from the super hot 2 Million Scovilles in the 22 Midnight Special up to the blistering 5 Million Scovilles in 357 Mad Dog pepper extract. The signed and numbered bottles at FireHotSauces.com will be the only bottles David will sign and will be only available from Fire Hot Sauces. All the sauces will come in a plastic display case and a letter of authenticity.
In addition, a special offering of all four signed #1 bottles will be sold as a set for $595.00. Each sauce signed and numbered from #2 through #25 will be sold separately in the range from $75.00 to $150.00.
Only 3,000 bottles in total were produced of these special extracts, 750 of each of the four versions. The premium Oleoresin Capsicum used to create them is from India and ranges from 1,000,000 to 5,000,000 in Scoville units. The farmers who are contracted to grow the peppers that the extract is taken from take care to dry and store the peppers properly so that the pepper extract is pure and has no bitter taste.
Founded in 1991, The Ashley Food Company has earned an international reputation for high quality products made with only premium, all natural ingredients. David Ashley has created some of the hottest and best known hot sauces on the market today. These four new extracts are the newest members to his ever growing family of sauces, condiments and extracts.
FireHotSauces.com launched in 2005 and brings together the hottest and collectable hot sauces to one location on the internet. It specializes in hard to find collectible items for the Hot Sauce enthusiasts.
###