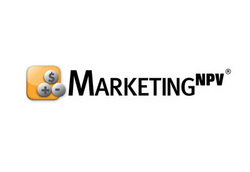 The B2B Segmentation Dilemma: Insights Stuck at Marcom
Princeton, N.J., (PRWEB) January 22, 2008
The new issue of MarketingNPV Journal takes a look at: the credibility of marketing research as a measurement tool; 7 emerging marketing metrics; the state of B2B segmentation, and a case study of a marketing dashboard failure (and pending resurrection).
The feature story, "How Can You (Re)build Trust in Research as a Measurement Tool?" examines several of the challenges of employing marketing research as a tool for measuring marketing effectiveness, and provides suggestions for improving it.
"It's ironic that market research, so critical to forming forward-looking insights about customers, products, competitors, and the business landscape, frequently lapses into a role as a crutch for justifying investments," says Pat LaPointe, publisher of MarketingNPV Journal. "This article offers some direction to help CMOs restore the focus and trust of research as a measurement tool."
This latest issue of the MarketingNPV Journal also looks at other elements of the marketer's measurement tool kit. B2B companies, for example, are making some good progress in using segmentation beyond marcom-tuning or sales targeting. But as illustrated in "The B2B Segmentation Dilemma: Insights Stuck at Marcom", the bigger picture points to a clear plateau at the status quo.
"Anatomy of a Dashboard Failure (and Pending Resurrection)" features a compelling case study on one company's efforts to build, tear down and recreate a marketing dashboard - and how they are using the process to foster a culture of accountability.
"Emerging Metrics: Seven Topics of Increasing Relevance", identifies some key marketing metrics that could have an increasing impact on marketers' future measurement efforts. And in our Measured Thoughts series, we offer an exclusive interview with Dan Henson, CMO of General Electric, in which he shares his insights on marketing planning, resource allocation, and measuring the payback on marketing investments.
Copies of the new issue, along with four full years of back issues, can be viewed and downloaded free from http://www.MarketingNPV.com.
MarketingNPV (http://www.MarketingNPV.com) is a highly specialized advisory firm that links marketing expenditures to financial value creation, providing continuous improvement in the effective and efficient allocation of marketing resources. The firm uses processes and tools tuned to measure the payback on marketing investments, track the right marketing metrics, and forecast the economic impact of changes in strategy or tactics. MarketingNPV maintains the world's largest online archive of articles and resources about marketing measurement, and publishes MarketingNPV Journal quarterly.
Contact:
Tina Anagnostis
(908) 439-2891
Tina.Anagnostis(at)MarketingNPV.com
Measured Thoughts is a service mark of MarketingNPV.
###