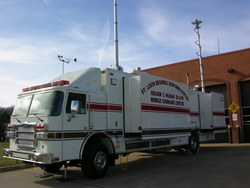 With this new technology, our ability to adapt to the situations we are responding to is much richer
St. Louis, MO (PRWEB) January 23, 2008
Firefighters now have a critical enhancement for sustaining incident response within the Eureka Fire Protection District (EFPD) in suburban St. Louis -- E•SPONDER Express.
E•SPONDER Express is a turn-key solution that provides everything a rescue agency needs in the planning, response and recovery stages of a incident response emergency. This tool allows an agency to quickly and easily utilize the National Incident Management System (NIMS) and Incident Command System (ICS) guidelines, while automatically managing paperwork and reporting associated with the NIMS/ICS process.
Greg Brown, Fire Chief of EFPD and 2007 Missouri Fire Chief of the Year, said that their smaller department is dedicated to providing the best services possible to their community and E•SPONDER Express helps the firefighters to effectively manage response across a diverse coverage area.
"With a combination of professional and volunteer firefighters, longstanding local mutual aid agreements and our FEMA response activities, a cutting edge technology such as E•SPONDER Express becomes invaluable," said Brown. "Our team is better prepared and is able to react more flexibly, which allows us to better serve our community."
Encompassing 82-square-miles that span two Missouri counties, EFPD regularly deploys as part of Missouri Task Force 1, a FEMA Urban Search and Rescue Task Force. Deploying E•SPONDER Express has given EFPD a tactical tool for managing incidence response at the operator and command level -- allowing them to simplify the creation of Incident Action Plans (IAPs), allowing on-scene resources to build and manage IAPs with or without connectivity with headquarters, and still maintain a headquarters view of the response for after-action, historical and obligatory NIMS/ICS reporting. They are also leveraging E•SPONDER Express for its robust resource reporting around costs and corrective action planning.
"With this new technology, our ability to adapt to the situations we are responding to is much richer" said Brown. "Our ability to better communicate, coordinate and collaborate is allowing us to provide services in ways we've never been able to before, while meeting the obligations we have to our citizens, as well as our local and federal partners."
In order to ensure incident response in their district, Eureka firefighters have not only equipped their headquarters with E•SPONDER Express, the system is also installed in the St. Louis Region Mutual Aid Mobile Command Center stationed at the Eureka Fire Department. The command vehicle is designed to tackle any major emergency. It features satellite, night vision, emergency lights, six laptops, a server and six cellular phones. On-site at major incidents, the mobile command center leverages E•SPONDER Express to manage and support incident and emergency response actitivies within the NIMS/ICS structure. Funding for the Mobile Command Center and E•SPONDER Express was received through St. Louis Area Regional Response System (STARRS) to support the Regional Incident Support Team through a Federal UASI grant.
E•SPONDER Suite of Products:
The E•SPONDER product family provides a range of capabilities for the response management community, from the individual agency to the complexity of multi-agency, multi-regional response planning and collaboration. At the agency level, E•SPONDER Express simplifies and automates the incident management process, mapping to the NIMS/ICS (Incident Command Structure) process being adopted in many locations around the world. It allows the pre-staging and creation of Incident Action Plans, resource tracking, and electronic versions of ICS Series forms. E•SPONDER is a highly customizable software solution that enables diverse governmental or corporate entities to exchange information necessary for daily activities, to plan events, to coordinate command and control during events and incidents, and to review and evaluate performance afterwards. E•SPONDER Alerts provides a notification and alerting capability to either product that enables 2-way communication to up to thousands of people that can be triggered automatically in workflow or on demand as the situation dictates.
About Convergence:
Convergence, the creator of the E•SPONDER family of products, provides government and commercial enterprises with highly customizable communications and collaboration solutions as well as providing the commercial market with a wide variety of information technology solutions. A Microsoft (NASDAQ: MSFT) Gold Certified Partner, Convergence is an industry leader in mission-specific software for the emergency and disaster preparedness as well as homeland security communities with E•SPONDER and the new E•SPONDER Express suite of solutions. Winner of the 2005 and finalist for the 2007 Microsoft Worldwide Partner of the Year Award, E•SPONDER has been used by a variety of customers and events including Super Bowl XXXIX, the 2004 St. Louis Presidential Debates, and the St. Louis-based games of the 2004 and 2006 MLB World Series.
About Eureka Fire Protection District (EFPD):
The Eureka Fire Protection District is located in Southwest St. Louis County and Northern Jefferson County, which is approximately thirty (30) miles southwest of St. Louis, Missouri. Eureka Fire Protection District is a truly unique Department providing EMS, Fire, and Rescue services to an Urban and Rural community comprising of 82 square miles, the largest in St. Louis County. A "Combination" type department, EFPD utilizes both volunteer (reserve) and career staff. With nearly one hundred (100) members that includes Paramedics, EMTs, Firefighters, Support Team, and an Explorer Post, EFPD operates out of 3 stations protecting a community of over 28,000 people.
For an online demonstration of how firefighters are using E•SPONDER Express to help manage incident response and emergencies in their districts, please visit http://demo.e-sponderx.com.
###