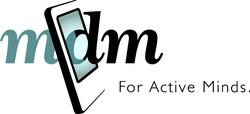 We're disappointed over any confusion our customers or the mobile industry may have experienced as a result of the ZENOPS press release
MILPITAS, CA (PRWEB) January 22, 2008
Premier provider of mobile solutions, Mobile Digital Media (MDM), today issued clarification regarding company ownership. In May 2007, ZENOPS, an international publisher of mobile gaming and entertainment solutions, announced it had acquired through purchase IN-FUSIO, Filao, and Mobilescope. In fact, while ZENOPS did indeed acquire certain assets of Filao S.A., it did not acquire Filao Americas. In May 2007, Filao Americas was renamed Mobile Digital Media and moved forward under the leadership of Chief Executive Officer, Katie Phillips.
For the purpose of edification, Mobile Digital Media originally launched in 2002 as a spin-off company from Palm, Inc. Filao S.A. acquired it in August 2005, and in September 2005 Mobile Digital Media was renamed Filao Americas. In January 2007, the assets of Filao Americas were merged with 995Soft, and in May 2007 the name was changed back to Mobile Digital Media. At that time Mobile Digital Media officially became its own company, no longer owned by Filao. "The investors in Filao S.A. made a strategic decision to exit the game creation and design business and to focus on the strengths of the original Mobile Digital Media, which is porting and distribution of our partners' products across retail, on-line and over-the-air channels", said Jean Schmitt, Managing Partner of Sofinnova Partners.
"We're disappointed over any confusion our customers or the mobile industry may have experienced as a result of the ZENOPS press release," said Katie Phillips, CEO of Mobile Digital Media. "The former Filao Americas was never a part of the ZENOPS acquisition, nor does ZENOPS hold any ownership stake in Mobile Digital Media."
In May 2007, Mobile Digital Media re-launched with a solid capitalization portfolio, with exceptionally strong backing from several investors, including Cross Atlantic Ventures and renowned venture capital firm, Sofinnova Partners (http://www.sofinnova.fr). Today, Mobile Digital Media, Inc. boasts an impressive portfolio of industry-leading mobile device software solutions, including titles from Atkins™, World Poker Tour, Franklin Electronic Publishers, and many more. Additionally, MDM is at the forefront of mobile solution distribution, publishing, and development. For complete information about Mobile Digital Media, including information on its product portfolio, visit the MDM website at http://www.gomdm.com.
About Mobile Digital Media
Mobile Digital Media, or MDM, is a recognized leader in the distribution, publishing, and development of compelling solutions and content for mobile devices and smartphones. Mobile Digital Media boasts exceptional technology and distribution relationships with a wide array of world-renowned companies, including Palm, Atari, Nokia, Motricity, Handango, Motorola, World Poker Tour, Franklin Electronic Publishers, and many others. With a primary focus on providing exceptional products for the mobile gaming, reference, and utility markets, MDM's extensive distribution network spans the U.S., and its products enjoy access to tens of millions of customers through the country's most respected electronics, mobile, and smartphone retail stores and websites. For more information about Mobile Digital Media, visit http://www.gomdm.com.
###