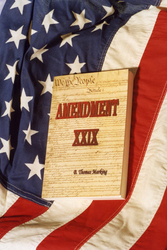 Black HIlls, SD (PRWEB) January 28, 2008
It is the end of a Spring workweek. Without warning seven volunteer citizens, with their families, are whisked away to a high-tech federal facility. There, they will remain sequestered from outside influence until their task is complete. In caucus they must identify those issues of immediate import to the nation and then present them to the voters as a National Referendum.
A few months later, a citizen in Muncie, Indiana makes a cellular phone call to the Region IV National Decision Center. She has just finished supper. Following confirmation of her identity, she securely records her vote on the issue of term limits for nationally elected representatives.
On the first of October, Washington is officially notified of the referendum results. Congress is directed to translate the policy decision of the Citizenry into law within ninety days. The Executive Branch is directed to prepare for the faithful administration of the new law and the Supreme Court is directed to uphold the constitutionality of the Citizen's decision against all challenges. Is this scenario political fantasy? Only as long as we allow it to be.
The route to this new world has been plotted in Amendment XXIX, a debut novel by B. Thomas Marking. With intrigue, suspense, humor, and romance, the author will open your mind to the possibilities that exist outside the box the Democrats and the Republicans have built for us.
Excerpt
The visitors are quite persistent. "Sir, we're going to make you the same offer ol' George Washington got back around 1775. What we're asking is that you drop everything else you're doing and take on the uphill fight of your life; leading a rag-tag bunch of zealots that are pushing a radical new idea against well-healed professionals who want to keep things just the way they are. One helluva deal, ain't it?
Some time later, Marissa joins her son on the deck and they share the drama of a mountain sunset.
"You're considering it, aren't you?" Thomas Jefferson Carroll confirms his mother's intuition. "I figured as much," sighs Marissa. "It seems to be the Carroll's destiny to ride off and fight for the little guy, even when the cause is hopeless. I guess it's only natural you'd want to take on the
Republicans and the Democrats -- both at the same time."
Imagine a world where career politicians, political parties and legions of corporate lobbyists have lost much of their influence over our lives. Imagine key issues being resolved quickly instead of dragging on for decades and destroying national unity. Imagine the United States of America once again recognized as the world's leading democracy. Imagine not having to imagine that we Citizens are in control of our government.
Order your copy of "Amendment XXIX" at First Democracy.Org
ISBN: 978-0-9642668-1-0 Trade Paper 305 pages $ 16.00
###