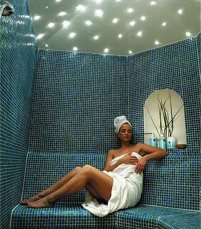 Sydney, NSW (PRWEB) January 22, 2008
Set the mood for love this Valentine's Day with HotelsCombined's list of the 10 most romantic hotels in Europe. Carefully selected and across a number of locations, these hotels aim to cater to a variety of tastes. The hotels were selected for attributes such as their scenic setting, décor and design, hospitality, sense of place, romantic atmosphere and visitor reviews.
Hotel Splendido
Portofino, Italy
For the glamorous jet-setters
An ancient villa perched above a hilltop and set amongst tropical gardens, this luxury villa has sweeping views of Portofino's spectacular bay. Chic and magnificent, everything about this hideaway encapsulates romance: grape-vined terraces, oversized beds, private balconies overlooking castles and the sea, piano bars for dancing and a winding garden path of olive trees that leads to the sea. Live la dolce vita with an Aperitif on La Terrazza as the sun sets over the Italian Riviera.
For more information and rates, visit:
http://www.hotelscombined.com/Hotel/Splendido_Hotel_Potofino_Vetta.htm
Domaine des Hauts de Loire
Onzain, France
For the Traditionalist
Classic French châteaux set on a sprawling estate of hundred-year old oak trees and swan-filled lakes creates a high romance quotient. This ivy covered castle is just outside the village of Onzain and a few hours from the bright lights of Paris. Spacious and elegant, the rooms are furnished with a mix of antiques and modern luxuries. Indulge in hâute French cuisine and the region's fine wines at the hotel's Michelin starred restaurant or take a romantic hot air balloon ride of the chateau-dotted Loire Valley. This is majestic French countryside meets opulent lodging.
For more information and rates, visit:
http://www.hotelscombined.com/Hotel/Domaine_des_Hauts_de_Loire_Hotel_Onzain.htm
Macdonald Gisborough Hall
Gisborough, England
For countryside enthusiasts
Stunning Gisborough Hall is a deluxe Victorian manor surrounded by parkland. Extensive landscaped gardens and bedrooms look out over the Cleveland Hills and into the distant woodlands. Dating back to the mid 19th century, the manor is a blend of original features and modern facilities. Each of the rooms and suites have been individually decorated to retain their old charm and features. Comfortable furnishings create a homely-feel whilst four poster beds bring sexy back with a Victorian twist ... Explore the scenic English countryside and dine at the hotel's restaurant Tocketts, acclaimed as one of the finest dining experiences in England's North East.
For more information and rates, visit:
http://www.hotelscombined.com/Hotel/Macdonald_Gisborough_Hall_Hotel_North_Yorkshire.htm
Hotel Imperial
Vienna, Austria
For music lovers and princesses
The ex-residence of the Prince of Württemberg, this 19th century palace now the Hotel Imperial oozes Viennese grandeur fit for royalty. The Imperial has indeed accommodated royalty with Queen Elizabeth II and celebrity couple Brangelina former guests. Rooms are elegantly decorated with antiques and rich fabrics, period artworks, crystal chandeliers and balconettes with views of the Ringstrasse and the downtown area. Take in the rich musical history Vienna has to offer by going to an Opera or walk in the footsteps of Amadeus and Debussy with a tour of the city. http://www.hotelscombined.com/Hotel/Imperial_Hotel_Vienna.htm
Royal Crescent Hotel, Bath
For Jane Austen fans
Bath, a Roman Spa town and the backdrop for many of Jane Austen's romance novels, is impossibly romantic. The Royal Crescent Hotel is situated on Royal Crescent the "street of streets", an imposing sight with its amazing houses and manicured lawns. The Royal Crescent depicts a Georgian fantasy with 18th century antiques, four poster beds, marble baths and oil paintings. Take a dip in The Bath House, a stroll in the gardens or a meal at Pimpernel's. http://www.hotelscombined.com/Hotel/Royal_Crescent_Hotel_Bath.htm
Liberty Hotel, Prague
For a Bohemian dream
The luxurious Liberty Hotel is in the heart of the historical centre and at the lower end of famous Wenceslas Square. The Liberty is a thoughtful and sophisticated reconstruction of a 19th century Art Nouveau palace. Spacious rooms and suites, hand crafted antique furniture and chandeliers create a romantic atmosphere whilst modern amenities provide homely comforts. A walk to Charles Bridge at night allows you to appreciate breathtaking views of both sides of the city.
For more information and rates, visit:
http://www.hotelscombined.com/Hotel/Liberty_Hotel_Prague.htm
Seven One Seven Hotel, Amsterdam
For art-appreciators and quiet romantics
Reminiscent of a scene from a Dutch masterpiece, this intimate guest house looks over Amsterdam's most beautiful canal, the Prinsengracht. Situated in Spiegelkwartier the city's Antique district, the area is characterized by beautiful old Dutch houses dating back to the 16th century. An impressive oak staircase leads to a number of personally themed suites Picasso, Schubert and Tolkien to name a few, which are furnished with a mix of period furniture and modern decor. Couples can enjoy breakfast in bed, in-room massages and spa treatments. Other quiet pleasures include al fresco dining in the peaceful courtyard and relaxing with cheese and wine by the fireplace. Museums and the nightlife of Leidseplein and Rembradntplein are also closeby.
For more information and rates, visit:
http://www.hotelscombined.com/Hotel/Seven_One_Seven_Hotel_Amsterdam.htm
Hotel Astoria, St Petersburg, Russia
For history fans
The Hotel Astoria at St Isaac's Square is at the heart of the vibrant city centre. The Astoria strikes a perfect balance of the traditional with the contemporary. Modern amenities mix with traditional decor, parquet floors and white marble bathrooms. Go back in time with a troika ride through the czar's palaces or a visit to the Hermitage Museum, just a stone's throw away. A three-night Valentine's package includes a champagne and caviar breakfast, candle-lit dinner on the special night, a city tour and a Russian massage.
For more information and rates, visit:
http://www.hotelscombined.com/Hotel/Astoria_Rocco_Forte_Hotel_St_Petersburg_Russia.htm
Hotel Sezz
Paris, France
For romance in-style
Hip and sexy, the Sezz Hotel is for modern-day romantics. Deceptively glamorous, the classic façade provides no hint of the stylish space inside. Described as futuristic boudoir chic this hotel sets a high standard for style, comfort and romance. Couples can enjoy each others company in oversized tubs that fit two, drinks at the Sezz's Veuve Clicquot Champagne bar or extra pampering with hammams and massages.
For more information and rates, visit:
http://www.hotelscombined.com/Hotel/Sezz_Hotel_Paris.htm
Glin Castle
County Limerick, Ireland
For a fairytale setting
A historic castle replete with turrets and towers, Glin Castle is an image straight from a fairytale. On the banks of the River Shannon, this secluded mansion is surrounded by formal gardens and woodland ideal for lazy strolls or a game of croquet. The picturesque beaches and ruins of counties Limerick and Clare are close by as is the 100 year old O'Shaughnessy's Pub, perfect for a traditional pub meal.
For more information and rates, visit:
http://www.hotelscombined.com/Hotel/Castle_Hotel_Glin.htm
To book a stay at one of these romantic retreats or search for more romantic hotels for Valentine's Day, please go to http://www.hotelscombined.com. Search by destination or by hotel name and compare rates from multiple accommodation providers to find the lowest price for your dream hideaway.
About HotelsCombined.com:
HotelsCombined.com allows travelers to search multiple hotel reservation websites simultaneously to find the lowest price for their preferred hotel and then links users through to the merchants' website to book directly. The leading meta-search site for hotels, the website searches over 700 000 global hotel deals from 30 plus merchants and provides access to millions of consumer reviews, hotel images, hotel descriptions and maps. The site searches all major accommodation websites in real-time ensuring the latest pricing and availability. HotelsCombined was founded in 2005 by former senior managers of hotel websites HotelClub.com and RatesToGo.com. For more information, visit http://www.hotelscombined.com.
###