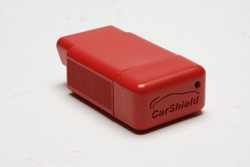 Any parent can appreciate the peace of mind that comes with knowing where your children have traveled to with the family automobile, and how fast they got there.
Santa Clara, CA (PRWEB) January 22, 2008
CarShieldTM, an innovative provider of consumer-oriented automotive safety and information services, today announced its company launch. Leveraging proprietary vehicle analytic tools and wireless internet connectivity, the fully self-contained CarShield device plugs easily into a vehicle's standard diagnostic port to provide real-time information analysis and delivery to keep the vehicle owner truly in tune with the status of their vehicle and the safety of their family.
"Our vision and goal is to empower the individual automobile owner with an easy to use and affordable solution that provides valuable, real time diagnostic information about their vehicle's operating condition, location and many other convenience services." says David Lepejian, CarShield's CEO. "Unlike OnStar, CarShield works with all car makes and models and provides more services."
CarShield offers an easy-to-use web and mobile phone interface providing:

Remote Early Diagnostic Warnings: Receive service and safety warnings via text, email or phone relating to engine health, battery status, tire pressure and more
Remote Smog Check: Eliminates the need of visiting a smog check station saving time and money
Emergency Support: Provides emergency support, sends roadside assistance and unlocks vehicle doors when keys are locked inside the car
Teen/Family Protection: Provides email/text notification when vehicle leaves a designated area or exceeds pre-defined speed limits
Theft Protection: Unauthorized movement alert/ vehicle theft tracking
Vehicle Tracking & Location: GPS satellite and Web interface display where your vehicle has been, and when it arrived and departed specific locations
CarShield Hardware
CarShield's device harnesses five essential technologies: GPS, wireless communication, predictive diagnostics, computing intelligence and Internet access to enable the owner of any make or model vehicle manufactured after 1995 to monitor, analyze and disseminate a variety of onboard information previously only available to mechanics and dealerships. The unit can be plugged in few seconds without requiring professional installation.
CarShield Monitoring and Support
Unlike any other service currently available to consumers, CarShield enables a two-way communication between owner and vehicle by relaying information in real time through the Internet, a PDA or mobile phone. CarShield monitors all essential engine functions and sends alerts via email, text or phone regarding any irregularity in the vehicle's electrical and fuel systems, battery health, or tire pressure, so that CarShield owners know about potential problems long before they create an inconvenience, safety hazard or a need to call for roadside assistance.
"CarShield can be configured in a number of ways, including sending out a text message when an equipped car goes over a certain speed or wanders out of a specific geographical area," said James Jefferies, CarShield's vice president of sales. "Any parent can appreciate the peace of mind that comes with knowing where your children have traveled to with the family automobile, and how fast they got there."
CarShield for Car Dealerships
New car dealerships can offer CarShield as an aftermarket add-on to increase profit margins and customer loyalty. In order to increase the quality of the customer experience, dealers can leverage a dedicated online portal to check customer vehicles service requirements, provide emergency assistance for customers in distress, and remotely diagnose problems with their customer's vehicles. By maintaining this type of relationship with the customer base, the dealerships can greatly increase the likelihood of customers returning to make other purchases or have their vehicles serviced.
Cost Savings
CarShield pays for itself by:

Lowering insurance premiums
Eliminating smog check fees
Providing emergency road side assistance
Lowering repair costs
Pricing and Availability
CarShield will be available in March 2008 to new car dealerships, and in June 2008 to the general public. The annual service subscription ($140) includes all CarShield services, including roadside assistance and remote smog check.
About CarShield
CarShield http://www.mycarshield.com headquartered in Santa Clara, California, launches with the vision and goal of becoming the provider of consumer and environment friendly automotive safety and convenience services. CarShield stands ready to recast the relationship between car and owner to help create a world where better information means saving time, peace of mind and family safety while reducing the cars environmental foot print. The combined hardware and web interface leverages proprietary vehicle analytic tools and wireless Internet to provide real-time information analysis and delivery, keeping the vehicle owner in tune with the status of their vehicle. CarShield was awarded the Global Media Award for Best New Electronics Product at SEMA 2007.
###