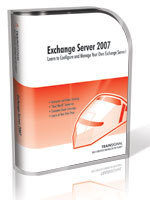 We offer practical IT training--not just a bunch of technical details
Rolling Meadows, IL (PRWEB) January 23, 2008
Train Signal is pleased to announce the release of its new training videos for Microsoft Exchange Server 2007. The high-quality computer course gives IT students and professionals more than 20 hours of instructor-led training on the popular Microsoft program.
"Exchange Server 2007 is a very widely used program with limited training software available, and Train Signal provides the necessary training to not only set up and manage an Exchange Server, but also provides training to help receive the proper Microsoft certification," said Train Signal's Director of Sales and Marketing, Gary Eimerman.
The unique training videos give users the benefit of shortening the steep learning curve with Exchange Server 2007, letting them learn the intricacies of the program more quickly and easily. They can:

Learn Exchange Server 2007 by watching it configured on a live network.
Become an expert at installing, configuring, and managing Exchange Server 2007.
Master all the new features that come with Exchange Server 2007.
Learn how to backup and restore Exchange Server 2007.
Discover how to develop secure, efficient systems.
Receive detailed training from a certified instructor.
The comprehensive videos are a refreshing alternative to training provided in a classroom setting. Viewers can learn at their own pace and at a fraction of the cost of taking a traditional class. The electronic course provides superior instruction that can benefit anyone, from students seeking certification training to experienced IT administrators wanting to learn more about the features of Exchange Server 2007.
"We offer practical IT training--not just a bunch of technical details," Eimerman said. "We actually show you how to use the product in real-world situations."
Train Signal's Exchange Server 2007 training video is taught by David Shackelford, an accomplished IT professional with certified expertise and more than 10 years of real-world industry experience. Shackelford is a Microsoft Certified Systems Engineer (MCSE) and a Microsoft Most Valuable Professional (MVP).
The release of the new training videos comes at a time when there is a growing demand for communication within companies. And IT departments are struggling to find a cost-effective way to balance security and accessibility. Microsoft Exchange Server 2007 is an ideal solution, according to Eimerman. With its unified messaging feature, Microsoft Exchange enables employees to access their email, appointment calendars and voicemail from almost anywhere. And they can do so using a variety of options, including a PC, laptop, mobile device, and even a land line with no Internet connection. Train Signal's new video can help users better capitalize on the capabilities of Exchange Server 2007 to improve their company's productivity.
A privately-held company, Train Signal offers more than 30 Microsoft, Cisco, Comptia and VMware computer-based training videos. In addition to Exchange Server 2007, its video courses include Microsoft Excel 2007, Microsoft Outlook 2007, Microsoft SharePoint Server, VMware ESX Server, Cisco CCENT and Cisco CCNA. The training software is provided on CD and on an external hard drive with the purchase of the complete library of training.
Train Signal's Microsoft Exchange Server 2007 videos and other training resources are available at http://www.trainsignal.com. For more information, please visit Train Signal or call 888-229-5055.
###